Rhinoplasty or nose job involves reshaping the nose to either give it a more attractive look or correct its aesthetic and functional defects. Many people who want to get a nose job are not sure about the timing of the surgery and don't know which season is the most suitable for their operation.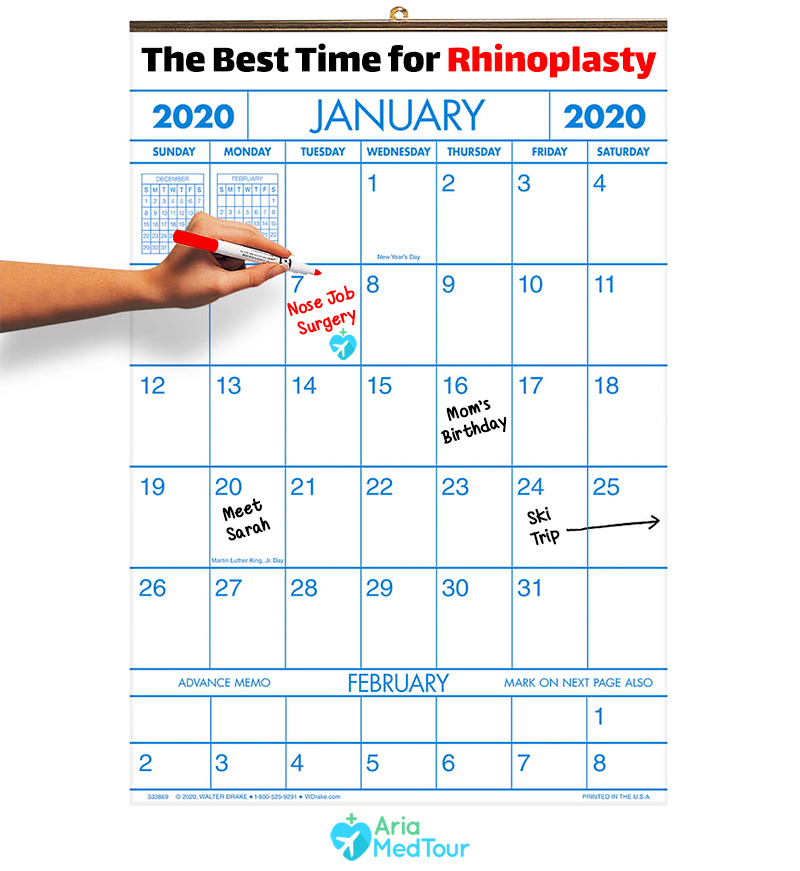 Rhinoplasty is a cosmetic surgery and like all surgical procedures, it can be safely performed at any time of the year. However, you might want to know how certain seasons might affect your recovery after rhinoplasty. Or maybe you'd rather sync your surgery with a national holiday so that you can take less time off of work. Sometimes, you could be considering having rhinoplasty surgery in a foreign country. In that case too, it can be very helpful to know the best time to arrive in the country for the surgery.
After reading this article, you will be able to weigh up your options and decide on the best time to have a nose job.
Nose job in fall and winter
You might decide to undergo rhinoplasty (primary or revision nose surgery) sometime during the fall or winter. It is good to know that the cold weather of these two seasons would not have a negative post-operative effect on your surgical results. In fact, many specialists believe the cold temperature in these two seasons can offer several advantages during the recovery, including:
You will experience less swelling and bruising in cold temperatures

Less sun exposure means scarring is less likely to occur

During the fall and winter, nights are longer and many people indulge in slow-living and lots of rest. This makes these seasons an ideal time for recovering from a nose job.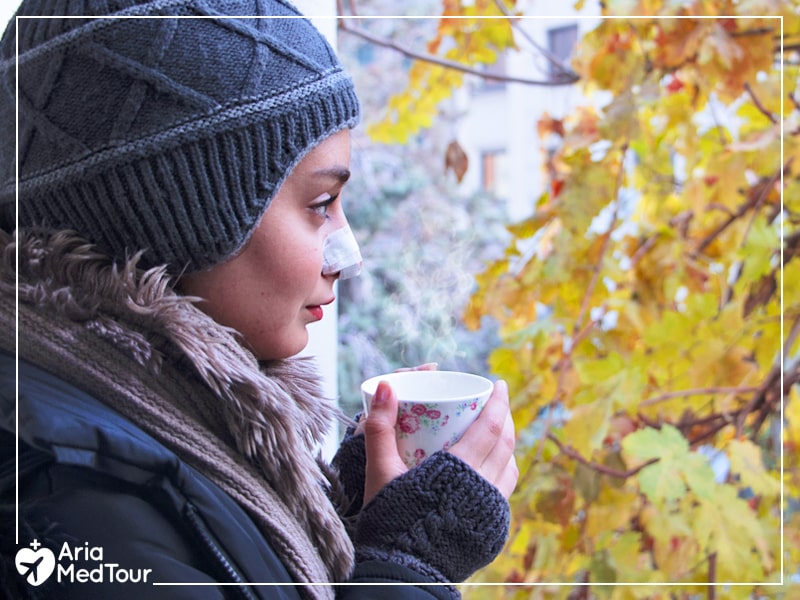 Recovery tips for nose job during the fall and winter
Don't let your skin dry out in the cold:

  The fall and winter bring many benefits to rhinoplasty patients. But on the flip side, these seasons are dryer than the rest of the year. The dry weather can impede wound healing process. Therefore, you should keep the bandages on and try to stay indoors. To speed up healing, your surgeon will provide you with ointments, which you should apply as instructed.
Steer clear of cold or flu:

  The fall and winter are flu seasons. Getting a cold while recovering from a nose job can hinder your healing. So, another tip for an effective rhinoplasty recovery is to take lots of vitamin C and stay warm to avoid coming down with a cold after a nose job.
Dress wisely:

  Wear outfits that are warm enough to withstand the dry and cold weather. In countries like Iran, fall and winter are rarely freezing cold. Yet, you should dress wisely if you are planning to have a nose job in Iran. To learn more about Iran's climate and what to wear during different times of the year, read this article: A guide to Iran's weather conditions
Nose Job Packages
Surgery + Hotel + Visa
Transfer + Interpreter
Rhinoplasty in spring and summer
Cosmetic surgery catches on more than other times during the spring and summer. In the spring, people are determined to get the summer-ready look by enhancing their body and facial features. The spring also offers the perfect temperatures for nose surgery that are neither too cold nor too hot to recover from the surgery. Furthermore, students can take advantage of the spring break and have a rhinoplasty before getting ready for the new semester.
Summer vacation allows you to use the off-time for your recovery. You can also schedule your rhinoplasty abroad in this season as the summertime is an ideal time for traveling in general. The summer heat won't be a problem during the recovery as long as you follow some simple recovery tips.
Recovery tips for nose job during the spring and summer
Control your allergy:

  The only downside of getting a nose job during the spring is the allergic reaction you might experience. During the springtime, the number of allergens in the air increases. This makes recovery somehow difficult for patients who may have hay fever. If you are likely to experience severe sneezing, uncontrolled runny nose, and itching, it is wise to control your allergy before opting for a nose job during the spring.
Avoid the heat:

  For a quick recovery, you should avoid spending most of your time outdoors where the temperatures are too high. Heat can increase swelling and might even lead to bleeding. Strenuous outdoor activities are also prohibited during the rhinoplasty recovery in the summer.
Avoid too much sun exposure:

  Sun exposure can hinder wound healing. It also increases the likelihood of scarring. Protect your skin and especially your nose during the recovery. Avoid direct sunlight and use SPF to protect your skin.
Do not get into the water:

  Swimming during the first few weeks after nose job can lead to infection or damage the surgical results. So, as much as it is tempting to nosedive into pools and lakes during the summer, you should avoid the leisure activity if you are recovering from a rhinoplasty.
You May Like to See Before & After Photos of Rhinoplasty
You May Like to See Before & After Photos of Rhinoplasty
Why not seize the golden opportunity of the holidays?
As a cosmetic procedure, rhinoplasty can cost a fortune in most countries. To tackle the price obstacle, many patients are now choosing to travel to other countries for their rhinoplasty surgery. As the nose job capital of the world, Iran entices thousands of international patients every year into the country for nose job surgery.
It is one thing to know when to go under the knife for a nose job, it's another thing to find the best timing for having the procedure in another country. Holidays can be ideal times to travel for medical purposes as you will have ample time to rest and recover from your surgery without worrying about falling behind at work.
Nose job for Christmas
The 12-day Christmas holiday offers a great opportunity for those who wish to go through nose reshaping surgery in another country. You will have plenty of time for recovery and will get to begin the new year with a new look.
Christmas is not considered an official holiday in Iran. So, cities do not shut down and doctors are busy receiving patients as per usual. That's an advantage you can benefit from and schedule your rhinoplasty in Iran during the Christmas holidays.
Some people might prefer to keep their nose job a secret. Christmas is an ideal time to hide moderate procedures. By the end of the Christmas holidays, any swelling or bruises will have significantly subsided, making it more difficult for others to find out about the surgery. As time passes, people will realize something in your face looks different (for good) but can't easily tell what it is.
Summer holiday
July and August mark the summer holidays when most Europeans can use their free time to travel to other countries. However, not all of these trips are for pleasure. Some people take advantage of the time off to pursue medical or cosmetic procedures.
Nowruz, a time for renewal — a new face!
When checking the calendar for appropriate dates to have a nose job abroad, don't just look for holidays in your own country; you can also look up holidays in the country of destination. This way you can find the most appropriate timing that helps you make the most of the journey.
The most important holiday in Iran is the Nowruz holiday which starts from March 20 and lasts for about 13 days. It marks the Iranian New Year and for most Iranians, it's an opportunity to escape from the hustle and bustle of big cities. As a result, cities like Tehran are significantly less crowded than any other time of the year. This will provide you a more peaceful recovery.
During Nowruz, the weather is also very delightful. So, you can stay in the country when it is in its best condition. You can also hit two birds with one stone and discover Iran on the same trip.
Note that it is important to do all the arrangements in advance to make sure that the holiday won't cause you to get in trouble receiving the services you need. We at AriaMedTour will help you have a smooth nose surgery experience in Iran during the Nowruz holidays. Nowruz literally means 'new day' in Persian, so it can be the beginning of a new chapter in your life!
Not significantly affected by different weather conditions, rhinoplasty surgery can be perfectly performed during any season. There best time for rhinoplasty, however, might be different for different people, which depends on different factors, including having certain allergies or their lifestyle. That said, the majority of patients can have the surgery at any time.
Also, you can take advantage of different holidays or pick a time that does not interfere with your daily life or career. But most importantly, you will be able to schedule your nose job abroad with more freedom of choice and more time for recovery to ensure successful results.
At AriaMedTour, we schedule a nose job in Iran for you at different times of the year, even the national holidays. After you get in touch with us, your first point of contact will provide you with a thorough consultation. Then, we'll see to every step of the journey including trip planning, assigning your own healthcare support coordinator, setting medical appointments, and so on. Our mission is for you to focus on the surgery alone, leaving all the rest to us.
Feel free to express your opinions or ask your questions regarding the article