For those who are looking to tone every inch of their bodies, tummy tuck has always been a great option. Tummy tuck or abdominoplasty eliminates the piled fat from a protruded stomach, giving a shapelier surface in the abdominal area.
In general, people are mostly concerned about the pain and discomfort they would have to deal with after the surgery. That's why in this blog post we share what you should know about the post-operative pain and its management.
HOW MUCH PAIN SHOULD I TOLERATE?
Whether you are undergoing a full or mini tummy tuck, it involves some levels of pain. No need to worry though! It will not be long-lasting, holding you back from work or normal routines forever!
If you've heard some horror stories about the pain after plastic surgeries, keep in mind that people do dramatize their experiences most of the time. To fully understand what you will feel after getting a tummy tuck, here we provide you with a pain timeline:
On the day of the surgery
After the operation, when the numbing goes away, the pain will show up. You will feel tightness, tenderness, and discomfort at the surgical site as well as inside your muscles which have been pulled and sewn together.
The first week after the surgery
You should expect to feel the maximum amount of pain and soreness during this week. You can take medications in order to ease the pain. Most of the time, this pain will gradually decrease and go away up to the end of the first week.
The second week after the surgery
For a mini abdominoplasty, the second week is not a difficult one as the major pain will disappear during the first week after surgery.
For a full abdominoplasty, however, you may experience little to moderate discomfort and tenderness in your abdomen during the second week too.
WHERE SHOULD I EXPECT PAIN?
Many assume that it's the incision which hurts the most. But, the truth is that you should expect pain in various parts depending on your surgery.
If your muscles are manipulated during the procedure, tightness would be serious and you will feel tenderness and discomfort inside your abdomen.
Depending on your incision's site, you may feel soreness either below the belly button or along the pubic area or the so-called bikini line.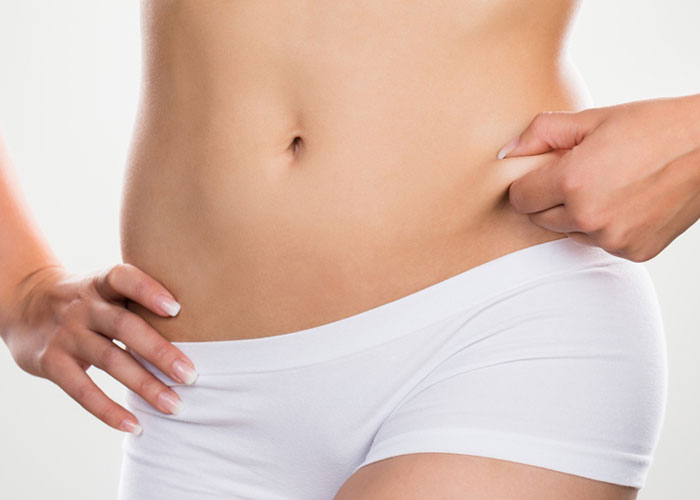 HOW CAN I MANAGE THE PAIN AFTER A TUMMY TUCK?
Depending on the type of your surgery, you may feel mild, moderate or severe pain. In either case, you need to follow the below instructions to manage the pain.
First of all, follow what your doctor has ordered. Your doctor can tailor the best course of recovery for you.
Take pain medications whenever the pain is severe and albeit upon your doctor's prescription.
Wear your compression garment if your doctor has instructed you to do so.
Ask someone to be around or stay in touch, especially during the first week, to help you with your routine activities.
Avoid strenuous activities and lifting objects as this may cause more pain.
Rest for one or two weeks and enjoy doing some relaxing activities like watching your favorite movies or reading your treasured books.
While it is important to rest enough, you need to maintain a low level of activity during recovery. Do some calf and thigh exercises in the bed to avoid blood clots. But, do not perform any abdominal exercises at this time.
Have a healthy diet and consume less salt.
Get more vitamins (e.g. vitamins C and D) and nutritional foods to have better and quicker healing.
Avoid having sex during the recovery period. It may bring you more discomfort and tightness in the abdominal area. Also, do it gently for a few weeks after the recovery.
Do not smoke one month before and after the surgery as it slows down the recovery and may result in poor wound healing.
Return to work in the second week but stick to the aforementioned post-op tips until you are fully recovered.
ARE THE RESULTS WORTH THE PAIN?
When you're weighing your decision to see whether it is really worth it, the questions about "what you will gain" and "what you will lose" come in. You need to know the actual results of your surgery to have realistic expectations and choose what is right for you.
Whatever you think about a tummy tuck, it's what helps many women find their self-esteem in. Being ranked among the top 5 cosmetic procedures performed in 2018 and 2017, this surgery is proved to be a prevalent one.
This is while studies have shown that the procedure yields a high rate of patient's satisfaction and safety. One study, for example, has revealed that the patients (around 90%) were satisfied with the tummy tuck procedure. The majority of patients have reported improvement on all physical and psychological factors.
Putting the aesthetic results aside, this surgery is reported to improve back pain in women who've suffered from this condition after childbearing.
By being safe, we do not mean that there is no complications or risks involved. It may include pain, bruising, swelling, infection, bleeding, and reaction to anesthesia. But none are persistent and none are unmanageable.
Minor complications like pain and bruising subside within a few weeks. Major complications like infection or else are rarely happening. Plus, they can be avoided easily by choosing the right place to get your surgerydone in.
Medical & Cosmetic Treatments