It's hard? let it be try us, soon you and us will proof who's the boss here!
General Surgery in Iran is often described as treatments that involve operative procedures. You can find all types of General surgery procedures in Iran ranging from operations related to stomach, gall bladder, liver, varices, thyroid gland, lungs, mammography procedures and hernia and many more.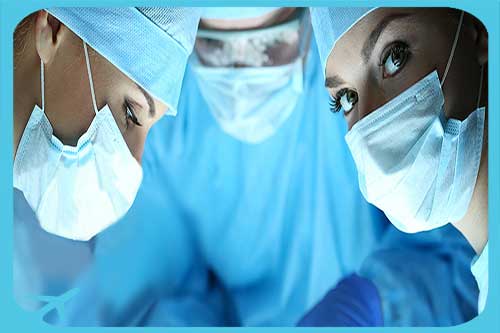 The scope of general surgery in Iran
Alimentary Tract, Abdomen and its Contents, Breast, Skin and Soft Tissue, Endocrine System, Surgical Critical Care, Surgical Oncology, Trauma, anatomy, physiology, epidemiology, immunology, pathology, esophagus, stomach, small bowel, colon, liver, pancreas, gallbladder, bile ducts, thyroid gland, Vascular Surgery, Pediatric Surgery, Thoracic Surgery, Burns, Endocrine system, including thyroid, parathyroid, adrenal, endocrine pancreas etc. are involved in the General Surgeries of Iran.
The field of general surgery as a specialty comprises, but is not limited to, the performance of operations and procedures relevant to the content areas listed above. It is expected that the certified surgeon will also have additional knowledge and experience.
Iranian surgeons with the highest qualifications are uniquely distinguished throughout the world. They are trained to be outstanding and prominent clinicians who are able to provide excellent surgical care. The expansive hands on training of surgeons in Iran emphasizes on compassion, responsiveness, accountability and responsibility with respect for diversity of patients.
General Surgeons in IRAN are part of IRANIAN ASSOCIATION OF SURGONS, a professional association established with the intend to expand the knowledge and practical skills of the surgeons. The association consists of surgeons with extensive experience and expertise, who specialize in several surgical fields, publishing multiple research papers and studies each year. These surgeons are all of the highest academic excellence, expert technical skills in clinical research with up to date understanding and knowledge of contemporary practices in surgery.
hospitals also meets the highest world standards in general surgery in Iran. With high end technology, excellent medical care and top notch treatment, they provide the patient who seek high care with a relaxing environment for the rest they need with a very affordable price.
Abdominal Surgery
Abdominal surgery is an operative process which involves opening the abdominal cavity to repair damaged or cancerous tissues. This operation is used to treat abdominal organs, including the intestines, liver, esophagus, stomach, etc. there are various abdominal surgery procedures, such as appendectomy and abdominal exploration surgery. There are a wide range of indications for abdominal surgery, like tumors, infection or obstruction.
Breast Surgery
Breast surgery has various procedures and may be performed for either medical or cosmetic reasons. Depending on the indication of this surgery, different surgical procedures are available, such as breast reduction surgery, mastectomy (breast removal) augmentation mammoplasty. Breast surgery may be used to improve the projection of the breasts and self-image (especially after mastectomy) or may be required due to breast cancer.
Skin and Soft Tissue Surgery
Skin and soft tissue general surgery refers to a variety of skin and soft tissue surgical procedures. It can be used to treat various medical conditions such as traumatic injuries, tumors located on or under the skin surface or infection. It can be also performed due to cosmetic reasons, to improve the skin appearance by removing unwanted lesions.
Endocrine System Surgery
Endocrine surgery is a sub-specialty and refers to surgical procedures used to treat diseases of the endocrine glands, such as the parathyroid glands, adrenal glands and thyroid gland. Various conditions may require endocrine surgery. The appropriate surgical procedure depends on the diseased glands and the condition. For example surgery may be needed to remove thyroid tumors.
Surgical Oncology
Surgical oncology is a specialty which involves surgical procedures to manage and treat various types of tumors, particularly cancerous tumors. It can be used to remove the tumor and the surrounding healthy tissue to reduce the chances of recurrent cancer. In cases which the total removal of the tumor is not possible, surgery is used to remove the tumor as much as possible in order to reduce cancer symptoms.
Trauma Surgery
Trauma surgery is a specialty which involves operative and non-operative procedures for treating traumatic injuries. This specialty provides a wide range of knowledge and skill to treat traumatic injuries to different part of the body such as the neck, abdomen and chest. Trauma surgery contains many surgical procedures such as general, vascular and thoracic.
Esophagus Surgery
There are various surgical procedures to treat diseases of the esophagus. The esophagus is a hollow tube that connects the throat to the stomach to move food and drink from the mouth to the stomach. In cases of esophagus cancer, a surgery called esophagectomy may be needed to remove the esophagus and usually a part of the surrounding healthy tissues, in order to reduce the chance of recurrent cancer.
Stomach Surgery
Stomach surgery may be performed for treating either diseases of the stomach such as stomach cancer or overweight and obesity. The stomach is a part of the digestive system located in the upper abdomen. In cases of stomach cancer, surgery may be needed to remove the cancerous parts or the whole stomach (if the cancer is advanced). Gastric bypass surgery and gastric sleeve surgery are examples of stomach surgery used to treat overweight.
Small Bowel Surgery
Small bowel surgery involves removing a part the small bowel to treat conditions of the small bowel. The small bowel which is also called the small intestine is a part of the digesting system which is responsible for breaking down and absorbing nutrients. Various conditions can cause damage to the small bowel such as blockage in the intestine, infection, tumors and injuries. In severe conditions, small bowel surgery may be a necessity.
Colon Surgery
Colon surgery or colectomy is a procedure which involves removing a part or all of the colon. The colon which is also called the large intestine or the large bowel, is a part of the digestive system which functions to break down and absorb food. There are various conditions of the colon that require colectomy, such as colon cancer, bowel perforation, lynch syndrome and bowel obstruction.
Liver Surgery
Liver surgery is a procedure which involves removing a part of the liver. The liver is the largest gland of the body that functions to digest food, remove toxins from the blood, etc. Liver surgery is used to treat certain types of liver cancer and metastatic colorectal cancer. Usually, an area around the cancerous cells is also removed to reduce the chance of recurrent cancer.
Gallbladder Surgery
Gallbladder surgery which is also called cholecystectomy, involves removing the gallbladder. The gallbladder is a small organ located under the liver and it stores bile produced by the liver. This surgery is usually performed to treat painful gallstones. There are two main approaches to remove the gallbladder: laparoscopic and open cholecystectomy. The first one uses several small incisions in the abdomen, while open cholecystectomy is done by making a larger incision, in order to remove the gallbladder.
Bile Ducts Surgery
Bile ducts surgery is usually performed to treat bile duct obstruction. Bile ducts are thin tubes which connect the liver to the small intestine. Fluid called bile flows from the liver to the small intestine to help digest food. Bile duct obstruction may occur due to various reasons such as bile ducts cancer, stone formation and damage to the ducts caused by gallbladder surgery. In the case of bile ducts cancer, surgery may be used to widen the duct.
Vascular Surgery
Vascular surgery refers to a wide range of surgical procedures used to treat diseases of the vascular system. Arteries are responsible for carrying oxygen-rich blood through the body, so any blockage in the arteries may cause serious problems. This treatment provides various services such as bypass surgery to treat peripheral artery disease, endovascular surgical intervention and surgery to treat peripheral artery aneurysms.
Pediatric Surgery
Pediatric surgery is a subspecialty and refers to a wide range of surgical procedures used to treat diseases of infants and children. Neonatal surgery and fetal surgery are two main subspecialties of pediatric surgery. There are various pediatric conditions that may be treated by these procedures, including congenital malformations, childhood tumors, abdominal wall defects, etc.
Thoracic Surgery
Thoracic surgery which is also called cardiothoracic surgery, refers to surgical procedures used to treat diseases which affect the chest or lungs. Thoracic surgery may be performed to treat a wide range of conditions, such as tracheal cancer, esophageal cancer, Pleural disease, emphysema and hyperhidrosis.