Affordable angioplasty arranged by AriaMedTour
with the best doctors at modern hospitals in Iran.
When the blood flow to your heart muscles gets obstructed, it can lead to a heart attack or unbearable chest pain. Angioplasty is the most effective way to avoid the condition with minimal complications. Proficient Iranian cardiologists use modern techniques to perform effective angioplasty procedures with the best results.
Wondering what this packages actually brings to you?
This exclusively-produced documentary shows a typical medical tour we arrange for our medical tourists. Watch the video to get an understanding of the services we provide to our medical tourists in package. This documentary film features a medical tourist named Cecilia who made a trip from Norway to Iran through us for a rhinoplasty as well as a cosmetic dental procedure. The whole process is filmed from the time she arrived at the airport until she departed Iran.
Angioplasty in Iran: All you need to know
Angioplasty, sometimes called stent placement, is a procedure to unclog blocked arteries and enhance blood flow. The minimally invasive surgery can effectively open arteries among over 90% of the patients. While the surgery is extremely successful, it can cost a large sum. To decrease the costs, many patients opt for getting angioplasty abroad in affordable countries. Among all the medical destinations one can undergo angioplasty in, Iran is favorable destination for a large number of people. Read on to find out more about angioplasty and why Iran appeals to thousands of cardiology patients.
What condition can angioplasty treat?
Angioplasty is a treatment intended to fix narrowed or clogged arteries. Arteries are essential blood vessels throughout the body that can provide oxygen for bodily organs. Different types of arteries include:
Coronary arteries: Arteries that supply blood to the heart
Carotid arteries: Arteries that supply blood to the brain
Renal arteries: Arteries that supply blood to the kidneys
Various substances in the blood can accumulate over the years and form plaque on the inner walls of the vessel. When the artery is narrowed by plaque buildup, blood flow is hindered and vessels cannot carry adequate oxygen to the heart or other vital organs. The condition is called clogged-artery or atherosclerosis and might result in life-threatening disorders such as stroke or heart attack.
How do I know if I need angioplasty?
Usually, atherosclerosis does not show initial symptoms. When the symptoms do occur, it means the plaque has grown so much that it restricts the blood flow. Symptoms could vary depending on which arteries in the body are clogged. For instance, a narrowed carotid artery can lead to numbness, headache, weakness, difficulty breathing, or paralysis. Whereas, common symptoms of coronary artery blockage include chest pain, coughing, or vomiting.
Due to factors such as genetics, the risks are higher for some people to develop cardiovascular diseases. If the condition runs in your family too, you can benefit from an early diagnosis by taking certain tests:
Blood test (Cholesterol screening)
Chest X-ray
Echo
Ultrasound
MRI
CT scan
Angiogram
How is balloon angioplasty performed?
During the procedure that can take anything between 30 minutes to 3 hours, the surgeon inserts a tiny tube (catheter) into the vessel to remove the blockage. For coronary angioplasty, the catheter is inserted either through the groin or the patient's arm.
Once the catheter is inside the artery, the surgeon guides it to the blockage. This can be performed by injecting a particular liquid dye into the bloodstream to help the surgeon find the blockage through X-ray imaging. This is the same method performed for diagnosis during angiography.
The catheter is a thin wire with a small balloon on its tip. The balloon is initially deflated and is inflated when it reaches the blockage. By expanding it will press the plaque against the inner walls of the vessel broadening the artery.
Is stent placement necessary during angioplasty?
In most cases, angioplasty is performed along with stent placement. That is, leaving a small wired mesh tube called a stent in the clogged area of the artery. While balloon angioplasty can effectively prop the artery open by pressing the plaque against the inner walls of the vessel, stent placement can keep the artery open by adhering to the vessel's walls and preventing the artery from narrowing.
It is possible to perform angioplasty without stent placement. For most patients, however, stents can yield better results. The decision whether to use stents during angioplasty is entirely up to your cardiologist who is well-informed about your condition and can provide the best solution based on his or her experience.
Why should I choose Iran for my Angioplasty surgery?
Traveling overseas for cardiovascular surgery might sound risky especially when the destination is one the media portrays as a dangerous and unstable country. What the media doesn't tell you is that Iran is actually one of the most reliable countries for medical care and cardiology procedures in particular. Here is why:
 Exceptional quality
Iran is ranked among the top 10 countries in the world for cardiovascular surgeries. Being on top of the list means the country enjoys proficient cardiologists and modern hospitals equipped with the latest devices and facilities. Choosing a country with outstanding performance in terms of medical care ensures effective results, fewer complications, and a fast recovery.
Distinguished cardiologists
Iranian surgeons are widely known for their expertise and devotion. In the field of cardiology, Iranian cardiologists have contributed to notable advancements. Having acquired their fellowship from some of the most prominent universities in Iran and around the globe, Iranian surgeons are determined to provide patients with utmost satisfaction.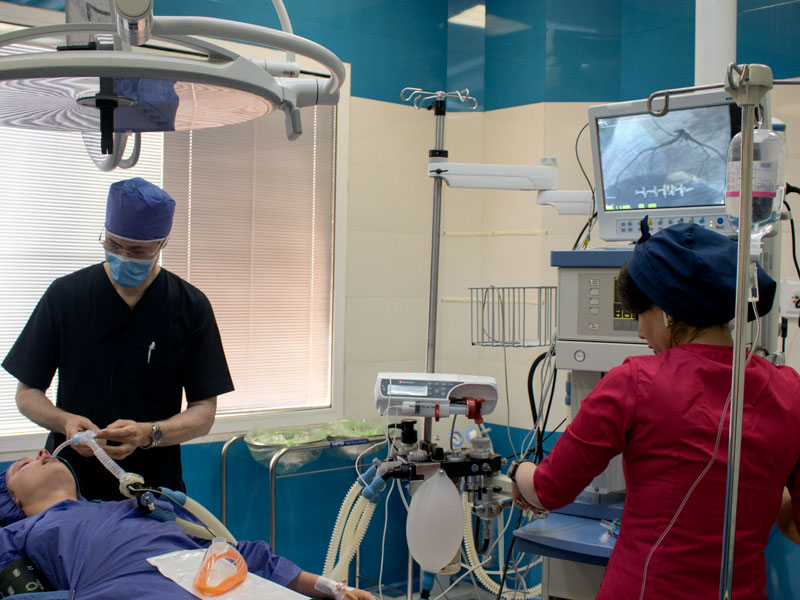 Top-rated hospitals
With more than 50000 cardio surgeries performed every year, Iran's hospitals perform by far more cardiovascular procedures than any other country in the Middle East. This is, in large part, due to the fact that great numbers of people from different nationalities travel to Iran for cardiovascular treatments. Iran's hospitals not only boast the best medical staff but also enjoy world-class technologies on par with developed countries.
Affordability
The high quality of services comes at an exceedingly cheap price too. As a country with a somewhat struggling economy, the total cost of any procedure in Iran is very affordable. A handful of countries can provide satisfactory and effective medical care at such a cheap price. Add this to the fact that through AriaMedTour, you can find the most competitive prices in all-inclusive packages that include accommodations, transportation, interpreter, and so on.
Angioplasty in Iran: What to expect
Once you have your whole journey planned by AriaMedTour, you can be at ease and focus your attention on the most important aspect of your trip that is the procedure itself. On your arrival, an interpreter will be waiting for you to pick you up and take you to the hotel. After checking into hotel and taking a rest, you can visit your cardiologist on the fixed date and time. The entire schedule is arranged in advance so that you have a hassle-free journey.
Usually, you will be able to fly in 2 days after the surgery. But, depending on what the specialist suggests, the exact days of your stay in Iran could vary. You might have to take a week off from work just in case the duration of your stay increases.
How to prepare for angioplasty in Iran
Before your trip to Iran, be sure to pack enough clothing suitable for the weather. It is recommended to pack as light as possible for your own convenience.
You should also pack any medication that is instructed by your cardiologist. During your consultation with our healthcare experts, you can ask about any adjustments that should be made in your current medications. Some doctors advise against taking certain drugs such as diabetes medications before the surgery.
The doctor might need to see some test results before the surgery. You can either take the tests prior to coming to Iran or have us take care of the necessary measures to set you up with appointments for tests and evaluations.
You might want to arrange for someone to accompany you during the journey. Upon your arrival in Iran, you will have an on-call interpreter accompanying you and a medical expert supervising each and every step of your journey. Yet, having an acquaintance next to you can bring a sense of comfort.
Like most surgeries, angioplasty requires you to refrain from eating or drinking for at least 6 to 10 hours before the surgery.
You should also avoid smoking and drinking alcohol for at least 2 weeks prior to the surgery.
Angioplasty recovery tips
The normal time of recovery after angioplasty is 2 weeks. But, the time can vary based on your condition. It is important to be extra attentive to taking prescribed medications and following your doctor's instructions regarding dialing down your activities for the first few weeks. Generally, you will be instructed to follow these basic tips after an angioplasty:
Avoid hard and strenuous activities like heavy lifting or driving for the first 5 days after the surgery. You can do some minor activities like walking or climbing stairs.
Your cardiologist will probably prescribe a set of medication instructions. This is to help prevent recurring heart problems and also boost healing. You should try to stick to the schedule and take the medications as instructed.
Your post-surgery diet can be extremely important. Consider adding nuts, whole grains, berries, and other foods that can enhance your heart's performance after the surgery. You should also decrease your salt and fat intake.
After the recovery, it is recommended to make some lifestyle changes to your daily routine to promote the long-term results of angioplasty. Lifestyles that include smoking and being overweight can increase the risks of recurring heart conditions. Some tips to help you maintain a healthy cardiovascular system are:
Lose excess weight
Engage in regular physical activities like running or swimming
Quit smoking
Angioplasty risks and complications
Angioplasty advantages can certainly outweigh its risks. Some very rare but potential risks include:
Blood clots forming within the stent
Bleeding
Artery damage
During angioplasty, a thin tube called a catheter is inserted through a small incision in your leg or arm. You might feel some pressure due to the movement of the catheter but you shouldn't experience any sharp pain.
Frequently Asked Questions About Angioplasty
Is angioplasty dangerous?
Angioplasty is a non-invasive procedure with few complications associated with it. Basically, the procedure is considered a relatively safe surgery compared to other cardiovascular treatments, such as heart bypass surgery.
How successful is angioplasty?
With the latest technologies, the success rate of angioplasty has increased tremendously. In fact, a study found that in about 90% of cases, patients can experience successful results.
Does angioplasty hurt?
During angioplasty, a thin tube called a catheter is inserted through a small incision in your leg or arm. You might feel some pressure due to the movement of the catheter but you shouldn't experience any sharp pain.
How much is angioplasty in Iran?
The cost of angioplasty in Iran is much lower than most countries. Of course, prices vary depending on the services you receive and the type of angioplasty you undergo. To give you a ballpark estimate, a typical angioplasty in Iran costs in the neighborhood of $5000. Give us a message below to get an updated price quote for angioplasty in Iran.