Dental Procedures In Iran
Dental care is offered by AriaMedTour in Iran with qaulity services and materials for affordable prices.
Prevention is the best way to maintain the health of your teeth. But teeth don't remain the same forever. They change, decay, break, get crooked, and more. Fortunately, modern dentistry allows for various types of dental treatments for different dental problems, with people becoming more and more interested in dental treatments, especially cosmetic dental procedures. Since dental services are costly in many countries, some prefer to travel abroad for more affordable services. Because of the affordable costs and high quality of dental services, Iran has caught the attention of foreign patients over the past years.
Hear about our dentistry patients' experiences in Iran: They have so much to share.
Watch these dentistry stories from different patients around the world to see why people choose Iran for their cosmetic surgeries and how AriaMedTour facilitates their medical trip to Iran.
A medical trip documentary:
Crossing borders for a unique beauty adventure
Australian patient's medical trip to
Iran for quality dental implants
One medical trip to Iran, two transformations:
Dental crowns and nose job
Smile makeover abroad:
Composite veneers in Iran
Before & After Photos
Take a look at 'before and after' photos of people who got their dentistry done in Iran.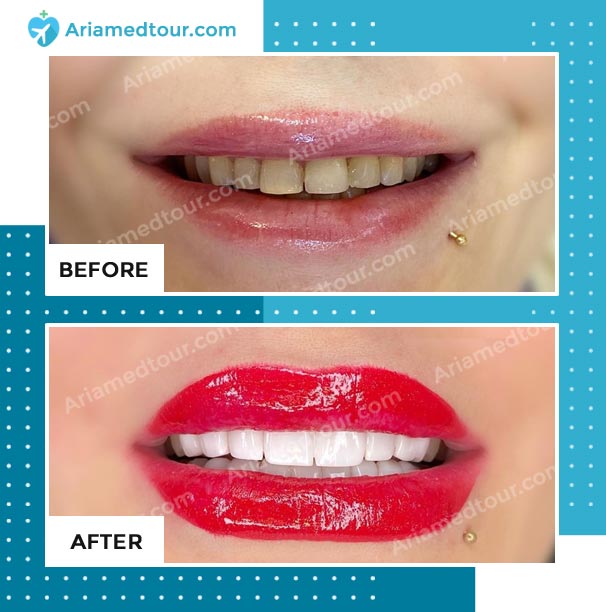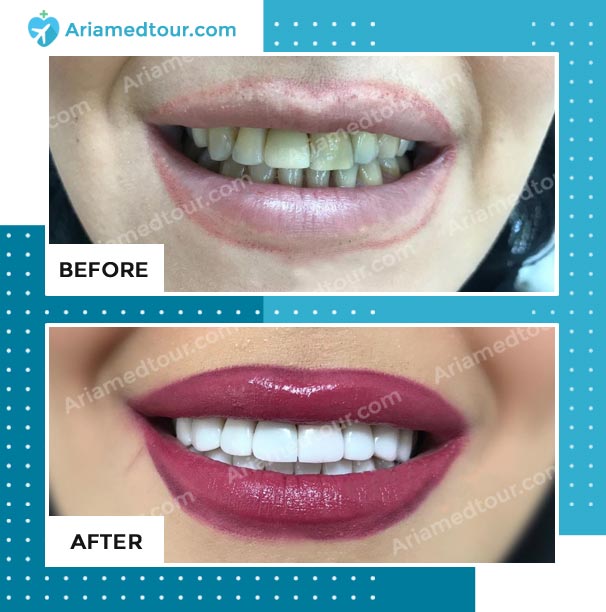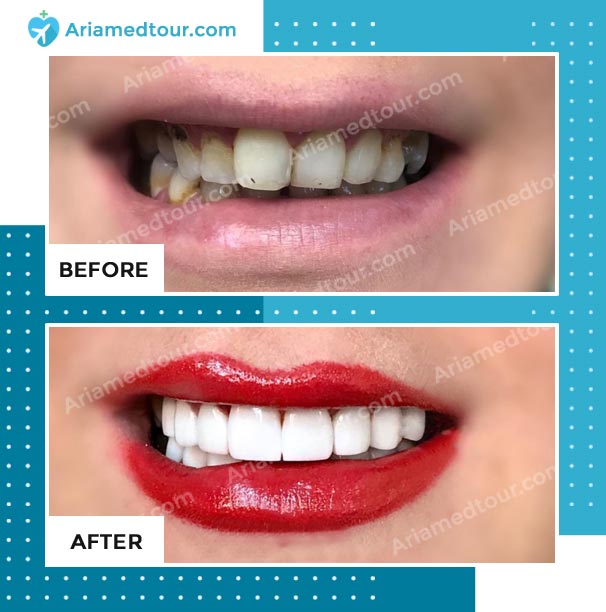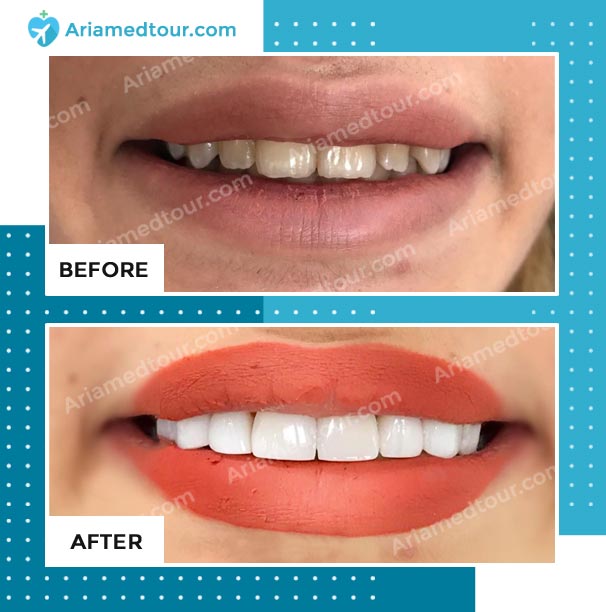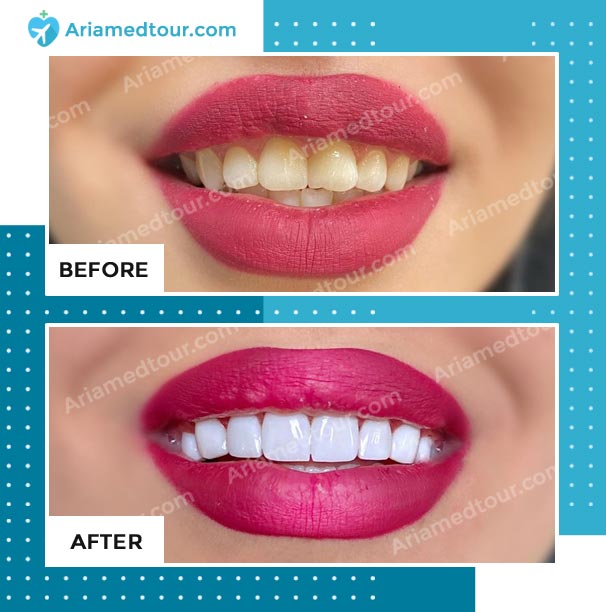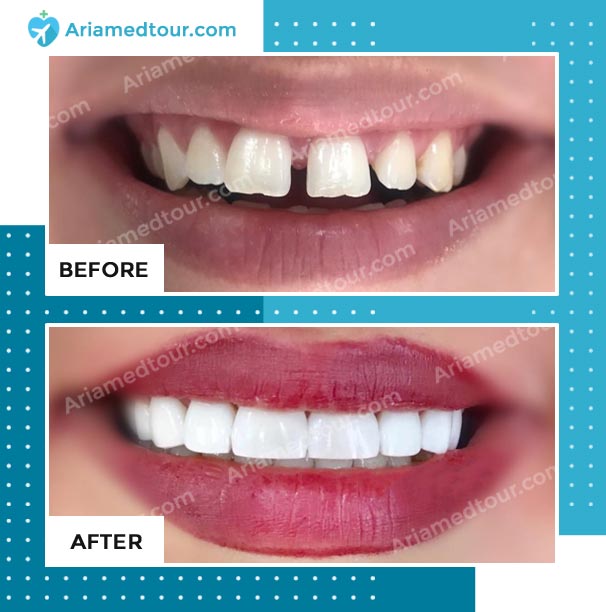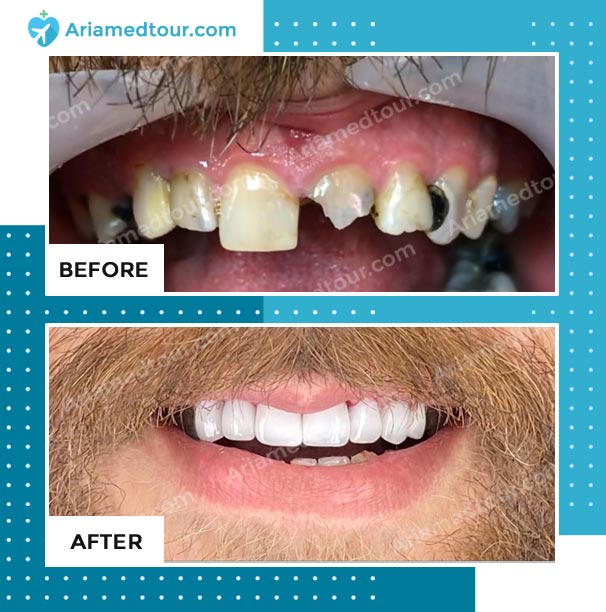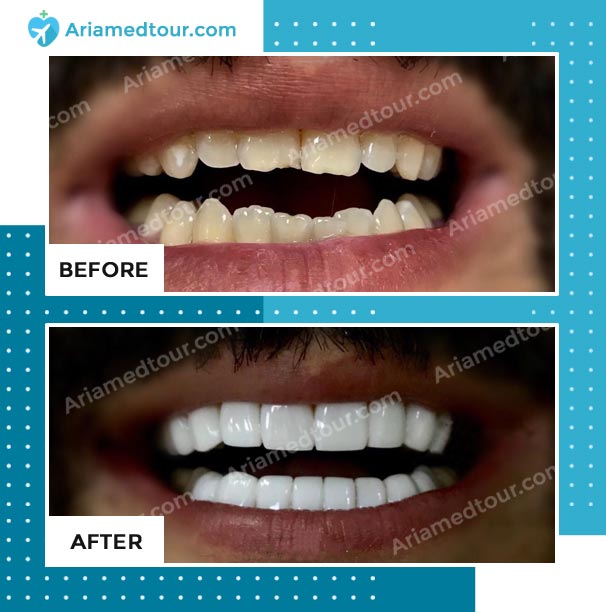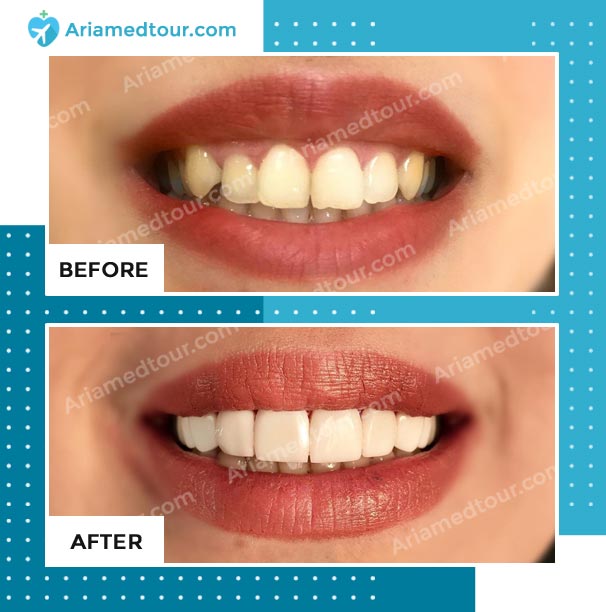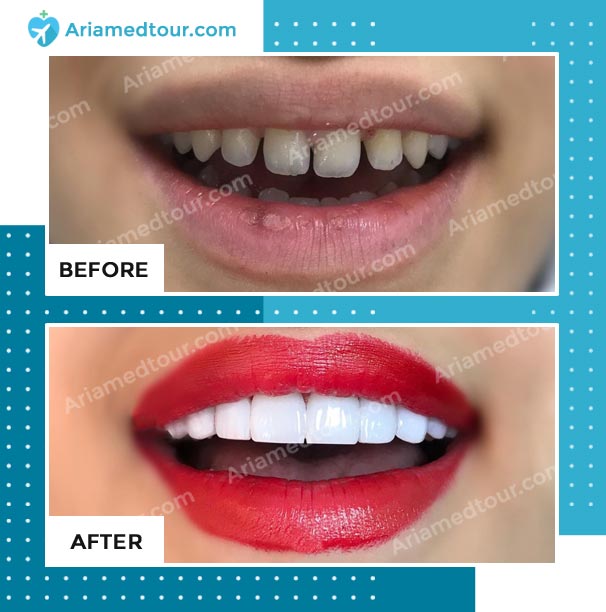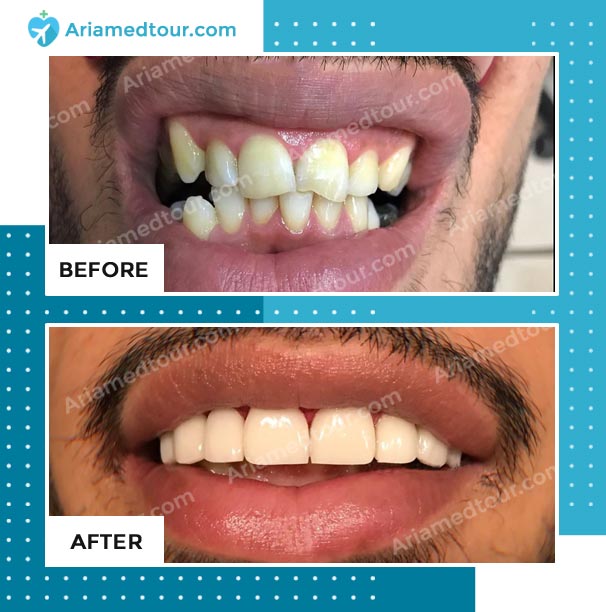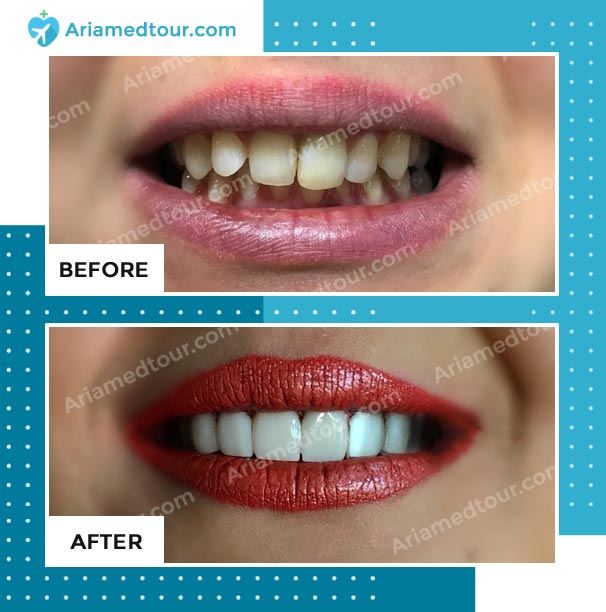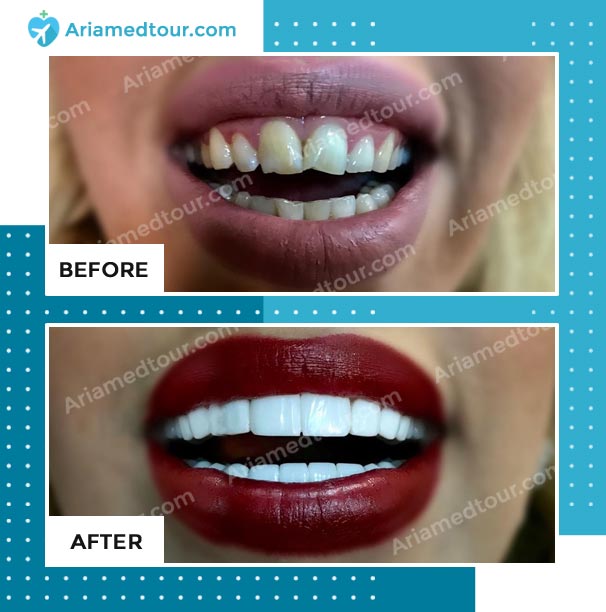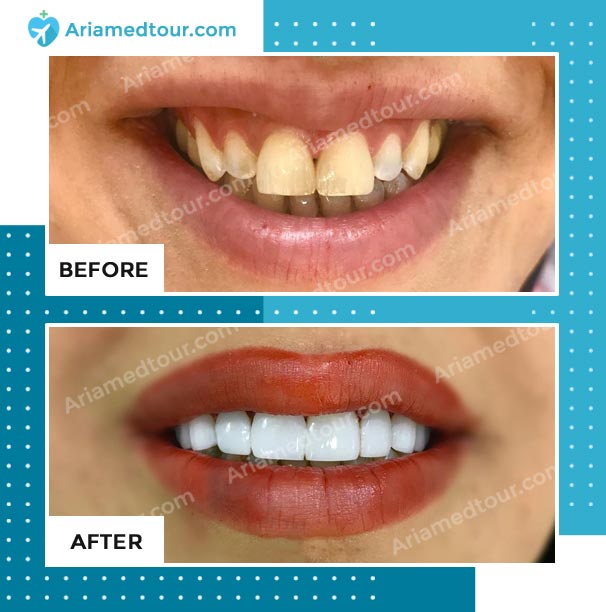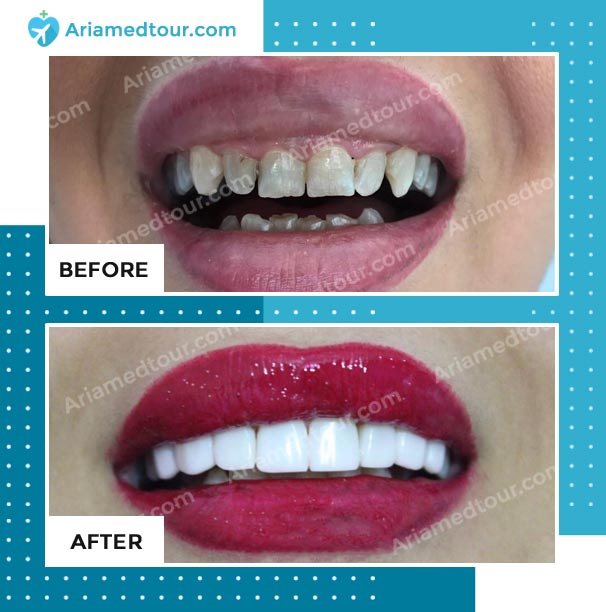 Why AriaMedTour?
By having your dental care treatment and your trip arranged by AriaMedTour, you can rest assured that everything will go smoothly. We will get you a visa, pick you up at the airport, book your hotel, drive you to wherever you need to go, take care of you while you are in Iran, and in short, stay with you from the moment you get off the plane until you depart the country.
Why Iran?
The dentistry profession has a high status in Iran and it is a highly developed medical field. The high demand for dental procedures in Iran has helped Iranian dentists to expand their knowledge and expertise in dentistry. Iran's numerous modern dental clinics and the affordable cost of dental services are also good reasons to choose the country as your dental treatment destination.
How much is dental work in Iran?
Healthcare services are very affordable in Iran, and dental treatments are no exception. Because of this high affordability, Iran has become a hot destination for people seeking dental care procedures. To draw a comparison, a dental implant in Iran costs $600 on average while the same service is offered at $4000 in Australia.
Haven't decided yet? Let us help you, it's free

Dentistry in Iran: all you need to know
Ever since the time when Iranian physician Yuhanna ibn Masawaih wrote the first book in Iran on oral and dental health in the 9th century, the field of dentistry in Iran has been continuously developing, with other Islamic Golden Age scientists such as al-Razi, Avicenna, Haly Abbas, and al-Jurjani making major contributions to the development of oral and dental medicine in its early stages.
Dentistry in Iran took a new turn in the 1930s when the first dentistry school was established in Tehran. Since then, dentistry in Iran has come a long way, to the point that currently there are dozens of dental colleges in Iran training hundreds of dentists annually in various dental specialties.
Today, Iran boasts hundreds of dental clinics staffed by professional specialists, which offer a wide array of medical and cosmetic dental procedures, including tooth whitening, dental veneers, dental implants, root canal, scaling and root planing, braces, bonding, tooth extraction, gum surgery, and other types of dental surgery and treatment.
Dental tourism in Iran
With the quality yet cheap medical and cosmetic dentistry services available in Iran, the country has become a favorite destination for dental patients from different countries, especially the Middle Eastern countries, who either can't afford hefty bills of dental work in their home country or are wise enough to save money on their dental procedures by making a trip abroad.
The majority of dental tourists visiting Iran are from neighboring countries such as Iraq, Oman, Qatar, UAE, and Azerbaijan, with many people from European and North American countries also showing a willingness to travel to Iran for affordable dental work, something that is very expensive in their home countries.
Although the travel cost may offset the saving you make for a minor dental procedure abroad, a major dental work in Iran would certainly result is a huge saving for you even with the travel expenses taken into account, especially given that Iran is one of the cheapest countries to travel.
Cost of dental work in Iran
Dental procedures are available at very decent prices in Iran. The average fee charged by Iranian dentists is one-tenth of the price a dentist charges patients in developed countries. This is why many Iranians living abroad get their dental work done in Iran during their visit to their mother country.
To make a comparison, the average cost of dental veneers in Iran is $150 to $350 per tooth while the same cosmetic dental work costs a whopping $800 to $2000 per tooth in America. With these great fees, you can have a complete smile makeover in Iran at a very attractive price — and at the same time, make use of your trip to visit the many great places in Iran and have an experience you will remember.
The low dentistry cost in Iran doesn't mean the quality is also low. It is a result of economic factors such as low taxes, low cost of living, and especially the dramatically increased exchange rate of foreign currencies to Iranian Rial.
Dental clinics in Iran
Dental centers in Iran enjoy high-tech dental equipment on par with developed countries. There are numerous modern dental clinics in Iran, distributed in big cities, including Tehran, Mashhad, Qom, Isfahan, Shiraz, Tabriz, etc. Most of Iran's dentistry facilities are staffed with bored-certified dental surgeons and orthodontists and well-trained dental practitioners, nurses, and technologists.
We at AriaMedTour are working with a selection of the best dental clinics in Iran so that our dental tourists can rest assured that they have their dental work done by the best dentists. These dental clinics use high-quality material for dental prosthesis and the best dental implant brands.
Apart from arranging dental appointments at high-rated clinics for foreign travelers, we offer all-expense packages to people who wish to save themselves the hassle of going abroad for dental work. Our packages include hotel, VIP transfer, personal guide, dental procedure, and follow-up,
Proficient dentists in Iran
Iran is home to the best dentists and dental surgeons in the Middle East. Iranian dental specialists quickly gain experience in their profession thanks to the high demand for medical and cosmetic dental procedures in Iran among a population of more than 82 million.
We at AriaMedTour work with top dentists in Tehran, Mashhad, Qom, and other cities, who are highly-skilled and experienced. Not only is the proficiency of our dental surgeons and specialists in Iran high, but they are also very friendly and good-natured. Just like all Iranians, Iranian dentists treat foreign travelers with the utmost respect and affability.
Is going to Iran for dental work worth it?
If you are looking for budget dental work you can easily afford or just don't want to pay through the nose for a dental procedure in your own country, it's a good idea to consider Iran as your dental tourism destination. The advantages of dental treatment in Iran are countless. Hospitable people with a colorful culture, low cost of living and accommodations in Iran, skillful doctors, and on top of that, low cost of dental care services in Iran are some of the advantages that make Iran an ideal destination for you.
Worried about the inconveniences of dental work abroad and the hassle of travel? We'll arrange everything for you from A to Z. Just contact us for a free consultation. Once we're connected, it'll be downhill all the way.