Cardiology in Iran consists of the study, diagnosis, and treatment of disorders related to the heart. Heart surgeries are among many various corrective treatments that tend to different conditions of the heart and damage caused by a number of diseases.
Heart surgeries (cardiac or cardiothoracic surgery) includes many different types of surgical procedures to correct various conditions and damages caused by disease, heart attack, and strokes.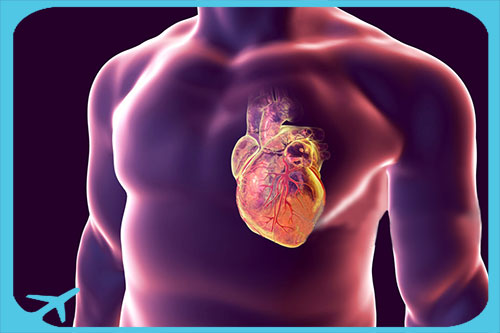 Iranian cardiology specialists hold highest scientific levels in assessing and treatment of cardiac disorders and provide medical services of high quality in performing very advanced heart surgeries, many of whom are globally renowned for the complex operations. Iranian hospitals have seen brilliant records in cardiology and according to just one hospital's record, out of 25 thousand pacemaker surgeries and angioplasties performed in the past 10 years, not a single surgery-related death has been reported.
Iranian specialists successfully keep up with the rapid global advancement in the cardiovascular treatments. Iran is currently among the top 10 countries in treating cardiovascular conditions (ranking number one in the middle east region).
Because of the high quality of cardio medical care provided by these hospitals, every year, thousands of patients from neighboring countries and even all across Europe and the US seek treatment in Iran. The specialists with the help of high-end and modern facilities and hospital equipment are capable of performing sophisticated heart surgeries with the best results.
Common Cardiovascular Surgeries and treatments:
Angiography
Coronary angiography is a procedure which involves using a contrast material for filling in the blood vessels and X-ray imaging to study the blood flow through the heart arteries and to detect any possible blockages. This method is especially effective for evaluating coronary artery disease (CAD). Coronary angiography can exactly detect the severity and location of CAD.
Angioplasty
Coronary angioplasty is procedure which involves using a balloon-tipped catheter to open blocked or narrowed heart arteries and restore normal blood flow. This is done by inserting the balloon-tipped catheter through an artery and inflating the balloon where the artery is blocked. This treatment may be used to reduce chest pain due to reduced blood flow and to prevent damage to heart muscle after a heart attack.
Vessal Angioplasty (one stent), Vessal Angioplasty (two stents), Vessal Angioplasty (three stents)
CABG
Coronary artery bypass grafting (CABG) is surgical procedure for treating coronary artery disease (CAD), which involves connecting or grafting a healthy artery to the blocked coronary artery. This method is used to bypass the blocked part of the coronary vein, for creating a new path for blood flow. Multiple coronary veins can be treated during one CABG surgery.
Echo
Echocardiography test is a procedure that uses ultrasound waves to take real-time images called echocardiogram of the heart. This technique is used to monitor the functioning of the heart and its valves, so it can detect heart blood clots, aorta problems, etc. Echocardiography may be recommended for various reasons, such as an irregular heartbeat that needs inspection of heart chambers or valves. There several types of echocardiography, the appropriate test depends on the required information.
Heart Valve Replacement Surgery
Heart valve replacement is a surgical procedure which involves replacing one or more of the heart valves with a prosthetic valve, as a treatment for valve disease. Heart valves control the one-way blood flow by closing and opening during heartbeats. In cases of severe valve damage, valve replacement surgery may be recommended. This surgery is most commonly performed to replace the aortic or mitral valve.
Open Heart Surgery
Open heart surgery which is also called traditional heart surgery, refers to any type of surgery which involves cutting the chest open to treat valves, arteries or muscles of the heart. During this operation the body is connected to a bypass machine which does the work of the heart and lungs. Open heart surgery may be performed for various reasons. It is used to replace or repair damaged heart valves, repair abnormal heart tissues, heart transplantation, etc.
Aortic Surgery
The aorta is a large artery that carries oxygen-rich blood from the heart to other organs throughout the body. The aortic valve controls the one-way blood flow by closing and opening during heartbeats. There are various conditions that can affect the function of aorta that may lead to life threatening situations. Aortic surgery may be necessary to treat diseases such as aortic aneurysm (enlarged aorta), aortic dissection (tears and holes in the aortic valve) or may be performed to replace the aortic valves.
Heart Valve Surgery
Heart valve surgery is a procedure which involves repairing or replacing heart valves. Heart valves control the one-way blood flow by closing and opening during heartbeats. If heart valves don't open or close the way they should, the blood can't flow throughout the body normally.  The valve repair method is often used to treat diseased mitral valves. In cases of severe valve damage, valve replacement may be recommended, which is most commonly used to replace mitral and aortic valves.