Breast Augmentation in Iran
If you are a woman living with a weary desire for having full feminine looking breasts, don't worry! it's not something you can't have. More than 300,000 women get their breasts augmented over the past few years. As the cost of this surgery is high in many countries, it would be worth it to take a look at other options and travel to a country like Iran where you can get effective breast implants at a bargain price.
All inclusive Breast Augmentation Packages in Iran
Breast Cosmetic Surgery Prices
Procedures

Price (USD)

Breast Augmentation


enlargement with round Mentor implants

$2450

Breast Augmentation


enlargement with anatomical Mentor implants

$2750

Breast Lift Surgery lifting of sagging breast




excess skin is removed and breast tissue is reshaped to raise the breasts.

$1990

Breast Lift with Breast Augmentation Surgery


lifting of sagging breast and enlargement with round Mentor implant

$2790

Breast Lift with Breast Augmentation Surgery


lifting of sagging breast and enlargement with anatomical Mentor implants

$3190

Breast Reduction Surgery




reduction of saggy breast

$1990

Breast Lift & Reduction surgery




Reshaped to raise the breasts with Reduction of saggy breasts

$2190
Breast Cosmetic Surgery Prices
Procedures

Price (USD)

Breast Augmentation


enlargement with round Mentor implants

$2450

Breast Augmentation


enlargement with anatomical Mentor implants

$2750

Breast Lift Surgery lifting of sagging breast




excess skin is removed and breast tissue is reshaped to raise the breasts.

$1990

Breast Lift with Breast Augmentation Surgery


lifting of sagging breast and enlargement with round Mentor implant

$2790

Breast Lift with Breast Augmentation Surgery


lifting of sagging breast and enlargement with anatomical Mentor implants

$3190

Breast Reduction Surgery




reduction of saggy breast

$1990

Breast Lift & Reduction surgery




Reshaped to raise the breasts with Reduction of saggy breasts

$2190
Breast Augmentation
Clinic and doctor visits, laboratory tests, Breast augmentation surgery in hospital/clinic, post-operative care, medicines, recovery, and follow-up


Treatment Visa (T-Visa)
Visa authorization code. (Note that there is a seperate visa fee that the patient must pay when receiving the visa, which it is not part of this package.)
Pick-up & Transfer
Airport pick-up, private transfer from hotel to hospital/clinic and vice versa


Accommodations
Three-star to five-star hotel offered which is preferably near the clinic or hospital


Other Services
24-hour on-call assistance, interpreter, SIM card and internet
Note: The medicines and other aftercare items included in this package are the necessary items prescribed by the surgeon. Also, the doctors and hotels and clinics which are included in the package are offered by AriaMedTour to the patient. There may be other doctors whom the patients considered and the price might be different. Based on a new policy of the Ministry of Foreign Affairs, the citizens of the USA, UK, and Canada are included in different logistic services.
Wondering what this packages actually brings to you?
Breast Implant Illness is something to be aware of but there are no worries when you can get a Breast implant Revision in Iran. "My friend told me about Iran and I did my research and I found out that Iran is one of the best countries to have plastic surgery" – Kersti from Finland did her breast Augmentation Revision (caused by breast implant illness) in Iran and she was surprised by the way she Experienced Iran.
Before & After Photos
Take a look at 'before and after' photos of people who got their breast augmentation done in Iran.
Before & After Photos
Take a look at 'before and after' photos of people who got their breast augmentation done in Iran.
Your detailed schedule after arrival in Iran
>> Day 1: Arrival at airport: you will be welcomed by our guide, then picked up and transferred to hotel*. Checking into hotel; Transfer from hotel to clinic; Visiting the doctor; Pre-op tests/images; Transfer from clinic to hotel
>> Day 2: Transfer from hotel to hospital; preparations for surgery; conversation between doctor & patient, reviewing the expectations; Performing of surgery; Post-op recovery at hospital; taking doctor's instructions; transfer to hotel
>> Day 3: Rest in hotel; taking post-op medications; following instructed diet; follow-up through doctor's assistant.
>> Day 4: Rest in hotel; regular eating restarts; daily walking; taking post-up medications
>> Day 5: Rest in hotel; Regular eating restarts; Daily walking; follow-up through doctor's assistant; drain removal by the doctor
>> Day 6: Taking shower at hotel; transfer from hotel to clinic; check-up and bandage removal (by the doctor)**; reviewing post-op instructions and dos & don'ts; receiving written certificate from doctor confirming patient is fit to fly; transfer from clinic to hotel.
>> Day 7: Transfer from hotel to AriaMedTour's office; AriaMedTour gives patient special gift***; start of permanent follow-up through communication channels.
>> Note:
* Transfer from the airport to the hotel will be with the taxi.
** The doctor visit may be in the 5th or 6th day depending on the circumstances.
*** In some cases where your departure is in the weekends this step may not be feasible.
About our hotels
We work with a select group of three- to five-star hotels in Tehran and other cities. Depending on the type of package you choose and the location of the hospital or clinic where you are going to receive the treatment, we arrange the most suitable hotel for you. The name, details, and photos of the hotel will be sent to you ahead of time.

Our Patients Have Something To Tell You
See why people choose us as their facilitator to get their cosmetic surgery done in Iran.
Haven't decided yet? Let us help you, it's free

Breast Augmentation in Iran: All You Need to Know
Just like other types of plastic surgery, breast augmentation is increasingly gaining ground in Iran. In fact, as the country comes up with effective yet affordable medical services, well-versed surgeons, and satisfactory outcomes, you can get your surgery done here with ease.
Read on to find out why Iran is a good destination for this surgery, how the surgery is performed, how much it costs and the like.
Is Iran a Good Destination for Getting Breast Augmentation?
If you want to undergo breast surgery, but haven't decided where to do the procedure, read this section carefully. Here, we give you five reasons for picking up 'Iran' as your breast surgery destination.
1) Augmentation mammoplasty is among the top 5 cosmetic procedures in Iran
Iran has beaten other countries to rank among the top 10 countries in terms of the number of cosmetic procedures performed. Up to 200,000 cosmetic surgeries are performed in Iran annually. In the recent decade, breast enlargement surgery has also seen a significant rise in the country.
A study published in the American Journal of Cosmetic Surgery states that breast augmentation is among the top 5 cosmetic procedures done in Iran. Accordingly, Iranian surgeons have earned deeper insights into this operation, and the procedure outcomes are satisfactory.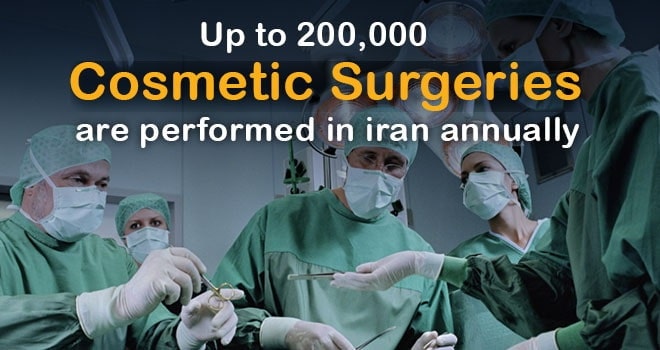 2) Iranian surgeons are board-certified and highly experienced
Considering the new wave of interest in cosmetic procedures, various countries are claiming that they offer effective plastic surgeries. The fact is that every doctor graduated from a medical university may claim this. But the efficiency is only found at the hands of experienced surgeons.
As a dramatic surge in the demand for beauty and cosmetic surgeries has swept through the country, Iranian surgeons have gained the necessary experience to perform this plastic surgery at its best.
Further to this, the majority of Iranian plastic surgeons are board-certified, being a member of the Iranian Society of Plastic Surgeons, the American Society of Plastic Surgeons, or the International Society of Aesthetic Plastic Surgery. Therefore, knowledge and experience are the two main assets of Iranian plastic surgeons.
3) Iran is one of the cheapest countries for breast surgery
In Iran, you can get your surgery done with the least possible amount of money. The cost is considerably lower than in many other countries around the world. If you're living in a place with a high cost of surgery, it would be reasonable to fly to Iran to get your boob job done at a cost 2-4 times lower than the cost you would have to pay in other places. (To see the exact prices, go to section 'cost of breast augmentation in Iran'.)
4) Iran enjoys top-quality medical services
Regardless of what most people may think of Iran's medical system, the reality of medical services in Iran would surprise you. Clean and super-organized clinics, hospitals and doctors' offices equipped with high technology facilities would assure you of the right choice you made about your surgery destination.
5) Iran is a great tourist destination to travel to!
It's not possible to see the exotic land of Persia and not fall in love with the history, myths, architecture, Islamic arabesque patterns, local people, and Persian dishes! This may seem like a bit of a stretch in the first place, but having a look at Iran's tourist attractions and foreign travelers' experience in the country would convince you easily.
Cost of Breast Augmentation and Breast Lift In Iran
For medical/cosmetic surgeries, money talks louder than any other factor anywhere in the whole world, except in Iran. With the low cost of breast implants, Iran is regarded as an ambitious competitor on the battlefield of attracting international patients from all over the world.
Breast augmentation surgery costs around $3000 or more in Iran (including doctor visit, clinic, anesthesia, post-op recovery, follow-up, etc.). This is while the cost of the same procedure would amount up to $10,000 in the UK, $12,000 in Australia, $7,000 in Canada, $4,000 in Thailand, $6,000 in the USA and $4,500 in Turkey.
The low cost of surgery is not limited to breast augmentation. Breast lift surgery is another highly prevalent procedure that is performed in Iran at exceedingly low prices. Breast lift surgery can cost just as low as breast implants surgery. What's more, the combination of surgeries (also known as breast augmentation/pexy) can cost between $3000 to $5000.
On Breast Augmentation Procedure:
Breast augmentation also referred to as breast implants or augmentation mammoplasty (and informally called breast aug or boob job) is a plastic surgery aimed at increasing the size, changing the shape, and restoring the symmetry of the breasts of a woman.
Breast augmentation is usually performed on breasts with a naturally small size or those which have lost their volume due to pregnancy, breastfeeding, weight loss, or aging. The surgery involves the placement of implants into breasts.
Within the broader category, a type of breast augmentation surgery known as breast reconstruction is used to create artificial breasts for those who had one or both of their breasts removed (mastectomy).
Breast lift surgery
Breast lift is another breast enhancement method that entails removing sagging skin and tissue to provide a perkier and more protruding look. This surgery, too, aims at offering a more youthful appearance.
Sometimes, to enhance the results of breast implants surgery, a breast lift is performed in conjunction with breast augmentation. However, it can provide satisfactory results on its own as well.
How to prepare for breast augmentation surgery
As with any other type of surgical procedure, breast enhancement surgery preparation requires you to be in a healthy state, both physically and mentally. Try to have sound nutrition and exercise regularly.
You should also make sure that you're not exposed to too much stress. That is why it is important to have a medical tourism facilitator (i.e. AriaMedTour) by your side to simplify the process for you.
You should also follow your doctor's instructions which usually include the following:
Avoiding certain medications and drugs (such as blood thinners) that could hinder the recovery process,
Avoiding smoking and drinking alcohol for at least 2 weeks before the operation,
Preparing the required lab tests,
Getting time off work (To get your surgery done in Iran, you will need around 1-2 weeks),
Packing necessary items including comfortable clothing for the day of surgery.
How is Breast Augmentation Performed?
Breast implants in Iran are done in a modern clinic or hospital under the knives of skilled and board-certified surgeons. You may receive either general or local anesthesia for the surgery.
The surgery involves inserting implants under the breast tissue or chest muscle. This comprises a number of steps:
Depending on the anatomy of your breasts and your desired shape, different incisions may be made along the areolar edge (peri-areolar incision), in the fold under the breast (crease or inframammary incision), in the armpit (axillary incision), or above the belly button (trans-umbilical incision).
Removing Excess Skin (when needed)
If you are to receive a breast lift along with breast implants surgery, the uplifting process usually takes place at this point. It involves removing some excess skin and tissue depending on the extent of the droopiness.
Implants are inserted through the incisions and are positioned either under the pectoral muscle or behind the breast tissue.
Incisions in the breast tissue are closed with absorbable suture. The skin incisions are closed with sutures or medical adhesive tapes.
The procedure takes around 1-1.5 hours.  you'll be able to leave the hospital on the same day of surgery.
Restoring Breast Symmetry with Breast Augmentation
In breast implant surgery, in addition to increasing breast size by using breast prosthesis, the asymmetry in breast size can also be fixed.
Surgeons who diagnose asymmetry in the cases who request breast implantation in clinical examination generally do not use a pair of prostheses of the same size.
In fact, for the side where the breast tissue has a smaller volume, they select silicone with a larger volume, and for the side where the breast tissue has more volume, they select silicone with less volume. This is how competent and experienced doctors do.
Generally, asymmetry in standard breasts is about 20-40 cc. This difference is more than 50 cc only in cases where the patient has a history of breastfeeding on one side of the breast or performing breast removal surgery on one side.
In fact, in addition to increasing the patient's breast volume, the patient is given additional beauty by creating symmetry in the final volume of the breast.
Due to insufficient experience, some doctors use the same silicone size for both breasts in all cases of breast implantation, and the end result of these surgeries is having two larger but asymmetrical breasts.
What to Expect Immediately after the Operation?
Immediately after the implantation, you will see the results of your breast enhancement surgery. To see the final results, however, you should wait for a few weeks until the swelling subsides, the skin stretches, and the wounds heal.
How is breast enhancement recovery like?
The healing process after getting breast implants takes around 10-14 days. Light bleeding may occur during the first days after the surgery. Do not fret about it and do what your doctor has instructed. During the first five days of the recovery period, you may feel acute pain which will subside gradually.
Bruising, swelling, and skin sensitivity are normal during and maybe sometime after this period. You'll need to reduce your physical activities during this time. After that, you'll be back on the track, and will resume your normal life again.
Breast lift surgery's recovery is a few days shorter than breast implants. Still, the physical activity restrictions apply to this procedure as well.
To learn more about breast lift surgery and how it differs, you can read this blog post: breast lift VS. breast augmentation
Types of Breast Implants Used in Iran
Breast implants are prostheses used to change the size, shape, and contour of the breasts. They can be either silicone or saline implants. Saline implants are applied for women with the age of 18 and older, while silicone implants are applied for those aged 22 and older.
The type of implants used in your breast has a great impact on your breast shape and appearance. In Iran, FDA-approved mentor implants are used for a successful boob job.
Mentor implants are proved to be one of the safest and most effective implants. They make for a satisfaction rate of above 95% in patients undergoing a reconstructive or cosmetic breast surgery.
A study on 1,898 mentor implants used during 6 years indicates that the rupture rate for breast enlargement surgery was 1.1% and capsular contracture rates were 9.8%. This indicates how effective mentor implants really are. Therefore, you can rest assured that you're going to get the most effective results out of your surgery in Iran.
Round Silicone vs anatomical (teardrop) Breast Implants
When you want to have breast augmentation surgery, choosing the shape can be a bit difficult. It is not easy to choose between round silicone and anatomical (teardrop) breast implants. However, knowing more about both can help you make your decision.
Round silicone implants were the first type of breast implants to be used for breast augmentation. Round silicone implants have a symmetrical round shape. Therefore they make the upper pole fuller.
On the other hand, anatomical breast implants have a different shape that looks more like a teardrop. Teardrop implants are bigger at the bottom and tinier from above. Anatomical breast implants mimic the shape of the natural breast better than round implants, sometimes they are used to correct mild ptosis along with breast augmentation.
Both round and anatomical implants can be filled with saline or silicone. Choosing implants with saline will make you able to have smaller incisions as they can be filled after they are implanted. Silicone implants have a thicker filling and provide a feeling of an actual breast. Anatomical implants can be also filled with a silicone gel which is even firmer than usual silicone implants.
There are a lot of differences between round implants and teardrop implants, including:
Even though the results of the breast augmentation depend on many factors like the type of filling and the size of the implants, teardrop implants tend to give the patients a more natural look than round implants.
Teardrop implants can be customized to your features, where anatomical implants come in several sizes, heights, widths, and volumes.
The prices of round implants are usually less than the cost of anatomical implants.
Round implants are better if want to make the upper pole appear fuller.
There is a risk of rotation with teardrop implants. Teardrop implants are not symmetrical like the round ones so they need to stay in a certain way.
The incisions needed when performing breast augmentation with anatomical teardrop implants are larger than the ones needed for the round implants of the same size. This is due to the shaped shell of the anatomical implant.
The risk of capsular contracture is greater with smoother implants, so capsular contraction is more common with round implants.
Teardrop implants are better for women who have petite bodies and do not have a lot of breast tissues. Anatomical teardrop implants will give them a more natural look after the surgery.
Breast Augmentation With Fat Transfer
Fat transfer is another method applicable as a breast enhancement procedure. This method uses the patient's own fat to increase breast size. Fat is obtained from one part of the body and injected into the breasts. This method is used for those who want to have a small improvement/enhancement in their breasts. For more information on this subject, read our detailed article on 'Fat Transfer'.
Frequently Asked Questions about Breast Augmentation
Am I a candidate for breast implant procedure?
Augmentation mammoplasty can be the right thing for you if:
You have fully developed breasts which do not have your desired size and shape
Your breasts have lost their volume due to aging or something
You're losing self-confidence and feel less feminine because of your small breasts
Your breasts are asymmetrical
Above all, you need to be healthy and not to be breastfeeding or pregnant at the time of surgery.
Is breast augmentation safe?
According to the reports, augmentation mammoplasty is a safe procedure. In fact, there are two types of risks that may question the safety of this procedure: minor and major complications. Minor complications are those which may happen after any surgery. They include pain, soreness, swelling, infection, adverse reaction to the anesthesia, etc. No need to worry, however, as they are temporary and can be avoided or managed easily.
The second group is the major risks associated with breast implants. They include implant rupture, loss of nipple sensitivity, and capsular contracture (tightening of the breast tissue). They are rarely observed (below 5%) and can be managed in case of occurrence.
Does breast augmentation leave scars?
Post-operative scars are one of the main concerns for those who are considering breast implants. The implants are placed into the breast through making incisions. So, it may leave scars on your body. However, the good news is that the scars remain under the breast so that they won't be visible. Moreover, after around one year, the scars would blend, leaving no significant trace on your skin.
How long does breast implants last?
Breast implants are long-lasting but can't be regarded as 'permanent'. Most implants last for more than 20 years without any problem. However, some women may need to repair or replace their implants after 8-10 years. This is required in case the person faces any complications or when the implant is dislocated.
Is breast augmentation painful?
Breast implants surgery is not as painful as it may seem. If the surgeon handles the procedure well, you'll recover with the least possible pain. However, you may feel some kind of pain, discomfort, and tightness a few days after the surgery. Sometimes, you may also experience a sharp pain in your breast, and your nipples may be a little bit sore for up to two weeks. In case of severe pain, you'll be allowed to take pain-relief medications.
Can I wear a bra after breast surgery?
Whether to wear a bra or not is one of the women's questions when they're going to have breast surgery. Although the public opinion is against wearing a bra after the surgery, some doctors may allow wearing a sport or post-operation bra. After the surgery, implants need some time to fit in. So, it is recommended not to wear a bra a few days after the operation to help reduce the recovery period.
How can I get my breast implants surgery arranged in Iran?
With a reliable medical tourism facilitator, it would be easy to have your breast augmentation surgery done in Iran. We, at AriaMedTour, are ready to help you with the whole procedure from getting your visa to booking your surgery with a proficient plastic surgeon in the country. You just need to fill in the below/above form and we'll do the rest.
Check out the complete list of questions about Breast Augmentation
Feel free to express your opinions or ask your questions regarding the article