Becoming a mother is one of the greatest feelings in the world, but nobody likes the feeling of getting a ruined body after childbearing. If your body has changed shape after your childbirth, a mommy makeover is for you. A series of cosmetic procedures, mommy makeover helps you get your body restored to pre-pregnancy shape. At AriaMedTour, we arrange your mommy makeover procedures at the best hospitals and clinics in Iran at very reasonable prices. Fill out the above form or contact us for a free consultation and quote, and keep reading to learn more.
All inclusive Mommy Makeover Packages in Iran
Mommy Makeover
Clinic and doctor visits, medical tests, Mommy Makeover in hospital, one-night hospitalization, post-operative care, medicines*, recovery, and follow-up


T-Visa Authorization Code
T-visa authorization code. (Note that there is a separate visa fee that the patient must pay when receiving the visa, which it is not part of this package).
Pick-up & Transfer
Airport pick-up, private transfer from hotel to clinic/hospital and vice versa


Accommodations
9 nights stay in a three-star to five-star hotel offered which is preferably near the clinic or hospital


Other Services
24-hour on-call assistance, interpreter, SIM card and internet
Note: The medicines and other aftercare items included in this package are the necessary items prescribed by the surgeon.
Also, the doctors and hotels and clinics which are included in the package are offered by AriaMedTour to the patient. There may be other doctors whom the patients considered and the price might be different. Based on a new policy of the Ministry of Foreign Affairs, the citizens of the USA, UK, and Canada are included in different logistic services.
Wondering what this packages actually brings to you?
This exclusively-produced documentary shows a typical medical tour we arrange for our medical tourists. Watch the video to get an understanding of the services we provide to our medical tourists in package. This documentary film features a medical tourist named Cecilia who made a trip from Norway to Iran through us for a rhinoplasty as well as a cosmetic dental procedure. The whole process is filmed from the time she arrived at the airport until she departed Iran.
Before & After Photos
Take a look at 'before and after' photos of people who got their Mommy Makeover done in Iran.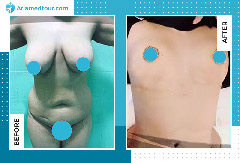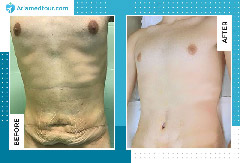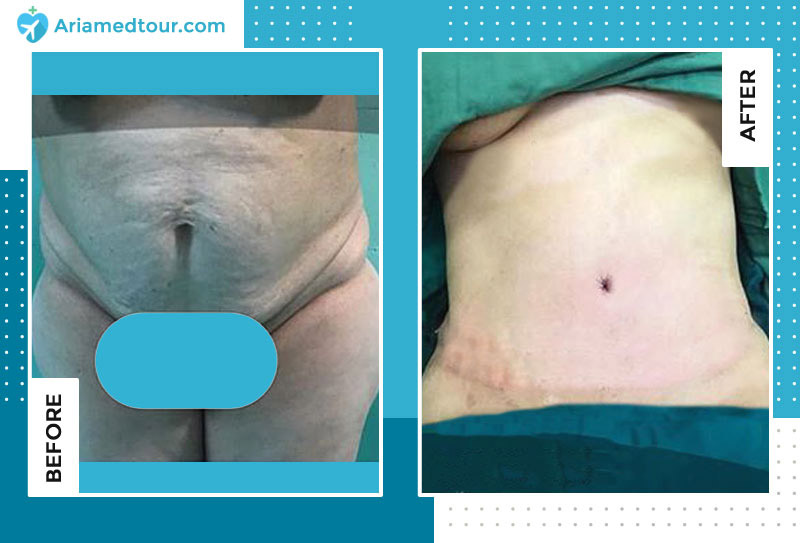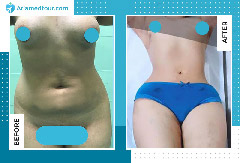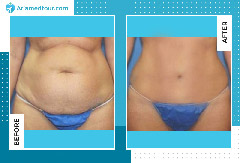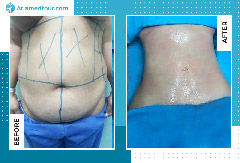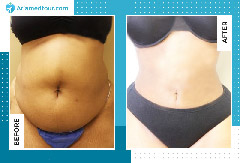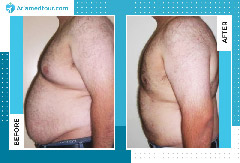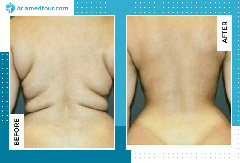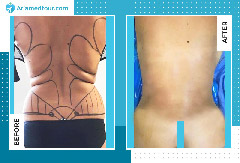 Before & After Photos
Take a look at 'before and after' photos of people who got their Mommy Makeover done in Iran.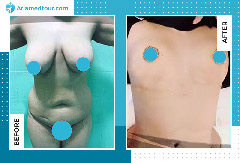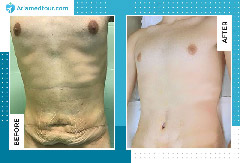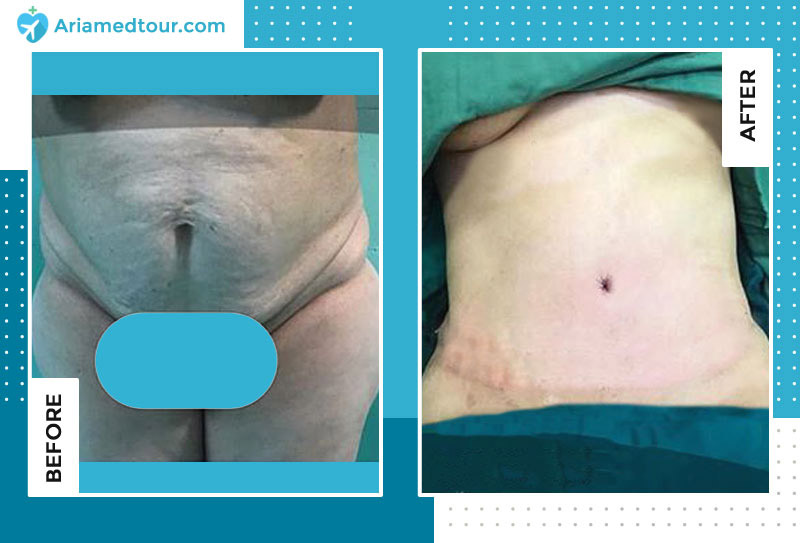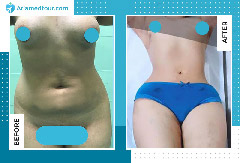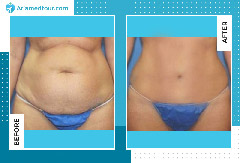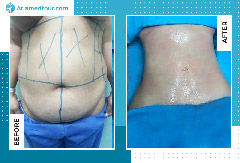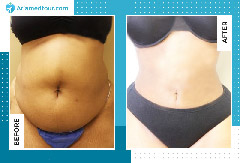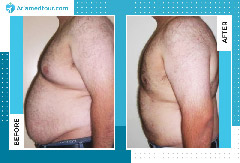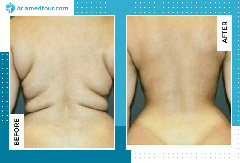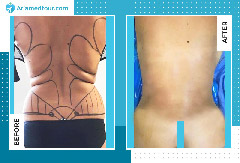 Your detailed schedule after arrival in Iran
>> Day 1: Arrival at airport: you will be welcomed by our guide, then picked up and transferred to hotel*. Checking into hotel; Transfer from hotel to clinic; Visiting the doctor; Pre-op tests; Transfer from clinic to hotel
>> Day 2: Transfer from hotel to hospital; preparations for surgery; conversation between doctor & patient, reviewing the expectations; Performing of surgery; Post-op recovery at hospital; taking doctor's instructions; Hospitalization
>> Day 3: Taking doctor's instruction; Transfer from hospital to hotel; Rest in hotel; taking post-op medications; following instructed diet; follow-up through doctor's assistant.
>> Day 4: Rest in hotel; regular eating restarts; daily walking; taking post-up medications
>> Day 5: Rest in hotel; regular eating restarts; daily walking; taking post-up medications
>> Day 6: Rest in hotel; regular eating restarts; daily walking; taking post-up medications
>> Day 7: Rest in hotel; Regular eating restarts; Daily walking; follow-up through doctor's assistant; Drain removal by the doctor
>> Day 8: Taking shower at hotel; transfer from hotel to clinic; check-up and bandage removal (by the doctor)**; reviewing post-op instructions and dos & don'ts; receiving written certificate from doctor confirming patient is fit to fly; transfer from clinic to hotel.
>> Day 9: Transfer from hotel to AriaMedTour's office; AriaMedTour gives patient special gift***; start of permanent follow-up through communication channels.
>> Note:
* Transfer from the airport to the hotel will be with the taxi.
** The doctor visit may be in the 5th or 6th day depending on the circumstances.
*** In some cases where your departure is in the weekends this step may not be feasible.
About our hotels
We work with a select group of three- to five-star hotels in Tehran and other cities. Depending on the type of package you choose and the location of the hospital or clinic where you are going to receive the treatment, we arrange the most suitable hotel for you. The name, details, and photos of the hotel will be sent to you ahead of time.

Our Plastic Surgery Patients Have Something To Tell You
See why people choose us as their facilitator to get their plastic surgeries done in Iran.
Haven't decided yet? Let us help you, it's free

Mommy Makeover in Iran: All You Need to Know
If you're searching high and low for destinations outside your country where you can receive effective mommy makeover treatment at a much lower price, take Iran into consideration!
And, if you don't have much knowledge about this treatment and how it is done in Iran, we are writing this to give you a comprehensive and vivid image of such a procedure in this country. But before anything else, let us see what mommy makeover is and what procedures it includes.
What Is Mommy Makeover?
Many changes are noticeable in women's body after pregnancy and childbearing. Many areas of the body, most commonly breasts, abdomen, genitalia, and buttocks are affected after childbearing.
A mommy makeover, also known as post-pregnancy plastic surgery, is a common surgical procedure to restore body shape and appearance. It is a combination of several techniques and procedures aiming to eliminate the negative effects of pregnancy and breastfeeding on your body.
What Does Mommy Makeover Include?
Based on the patient's needs, the procedure can be a tummy tuck, breast lift, breast reduction, liposuction, butt lift, and/or vaginal rejuvenation. Below, you can read the detailed procedural information of each surgery.
Tummy Tuck or Abdominoplasty
Poor skin elasticity, excess skin, and fat cause flabby abdomen. During pregnancy or weight gain, abdominal muscles get stretched, and the stomach protrudes.
Abdominoplasty is the best option for removing excess skin and fat, and also for tightening the skin and removing stretch marks in the lower abdomen.
With a tummy tuck, your surgeon will remove excess skin and fat below the belly button, and tighten the skin over abdominal muscles. Then the skin will be tightened with sutures.
Liposuction
For improving the contour of hips and flanks, liposuction is the best option. It is recommended that liposuction be done at the same time with a tummy tuck to get the best result. It has significant effects on the chest, thighs, upper arms, and knees.
To control pain and minimize bleeding, a liquid along with local anesthesia will be injected, and then your surgeon makes very small incisions near the area to remove fat. Then fat will be suctioned, and dressing and compression garment will be applied.
Breast Lift (Mastopexy)
Breast lift, also known as mastopexy, improves sagging breasts, drooping nipples, and stretched areolas, and returns the youthful shape to your breasts.
The procedure will be done under general anesthesia or using local anesthesia along with intravenous sedation. Depending on your preference, the position of your nipples, and the amount of excess skin, your surgeon makes incisions, and then repositions and reshapes the breast tissue, and removes excess skin.
After repositioning your nipples and areola to a more youthful height, he/she will tighten the remaining skin and close the incisions.
Breast Reduction
Usually, during the pregnancy, your breasts swell to a fuller size and shape, and in some women, the breasts remain larger after childbirth. This can cause poor postures, pain, breathing problems, and skeletal deformities.
Breast reduction is the best option for removing fat and glandular tissue. It tightens skin and produces smaller firmer and lighter breasts. The procedure can be done under local or general anesthesia, or through intravenous sedation.
Your surgeon will make incisions and repositions the nipples. Then, he/she will reduce and lift the breasts, and then brings the incisions together to reshapes the new smaller breasts. You need to wear a surgical bra after the surgery.
Breast Augmentation
Breast augmentation is the best technique to restore breast size. Silicone gel implants, saline implants, or fat grafting is used in this technique. Your surgeon makes incisions, and after lifting the breast tissue and creating a pocket in the chest area, places an implant. You need to wear a surgical compression bra after the surgery.
Breast Lift Combined with Breast Augmentation
In case you desire to keep your breasts round and also want to make them less droopy, you may be recommended to have a breast lift combined with breast augmentation.
Stretch Mark Removal
Skin stretches more quickly than it would normally, due to pregnancy or weight gain and loss. The pulling on the dermis makes the collagen weaker, and as a result, it breaks down, and stretch marks appear. Laser skin-resurfacing treatments will help reduce stretch marks.
Butt Lift
In order to avoid sagging, flat, small, or asymmetrical buttocks after childbirth, you can undergo a butt lift surgery. Butt lift surgery aims to improve the shape and appearance of buttocks, and add volume to buttocks and make them firmer.
The procedure is done through two main techniques including fat transfer and implants. In the first method, fat will be suctioned from other parts of the body and after being centrifuged, it will be injected to your buttock. In the second technique, the surgeon makes incisions in your buttock and inserts silicone implants afterward.
Vaginal Rejuvenation
Vaginoplasty and labioplasty are two common procedures to rejuvenate and reconstruct your vaginal area. The aim of vaginoplasty is to tighten up loose vagina after childbirth or as a result of aging. It can be combined with labiaplasty, which aims to modify the size or shape of the labia, creating symmetry between the lips.
Should I Get Mommy Makeover in Iran?
When it comes to any sort of cosmetic procedure, Iran has something to offer. Something remarkable of course! Not to self-praise but Iran's listed among top countries in performing high-quality plastic surgeries like nose surgery, breast augmentation, and liposuction, to name but a few. And, a mommy makeover is no exception!
Advantages of undergoing mommy makeover in Iran include:
Affordable pricing
Cost-effective treatment is becoming the prime reason for making international patients travel to this country. You can simply save from 30% to 80% when receiving treatment in Iran whether it's a cosmetic or medical procedure.
State of the art facilities and top-quality services
Although the country is not a developed one, the quality of healthcare services, medical facilities, specialized clinics and hospitals, hotels and their amenities is in parallel with many developed countries around the world.
Great Iranian surgeons
One of the key factors acting as a spur to medical tourists to travel to Iran is "Iranian doctors and surgeons" who are trained or at least have passed their fellowship in prestigious western universities, as well as caring healthcare personnel who make them feel like they're home during their stay in the hospital.
No waiting list
With a great number of skilled doctors, surgeons, and specialists, there's no need to be put on a waiting list. Most of the cosmetic procedures including mommy makeover surgery can be booked in less than one week!
Exceptional trip experience
With a unique blend of cultural, historical, and natural diversities, Iran has always been a hot spot to explore for many tourists. Although the country has remained intact due to some misconceptions posed by the media, world travelers haven't neglected the country, ranking it as their number-one destination. A look into travelers' experience in Iran as well as our patients' videos (in below) will let you understand what you will really see in this country.
Cost of a Mommy Makeover in Iran
The cost of your mommy makeover depends on the procedures you need to undergo. Most patients need to get a breast lift together with abdominoplasty and/or liposuction (for their stomach and flanks) which costs from around $4,000 to $8,000 in Iran.
If any other procedure is needed, the cost of that particular surgery will be added to the said price. By the way, for an exact price quote, we invite you to contact us so that our medical consultants can give you complete details on the procedure and its cost.
How Are Mommy Makeover Surgeries Done in Iran?
As mentioned earlier, a mommy makeover can vary from person to person. One may need to undergo a breast lift alone while the other may need a combination of the procedures.
For getting mommy makeover in Iran, you would require to stay around 14 days if you're undergoing 2-3 surgical procedures.
Based on your condition and your doctor's recommendation, the procedures can be done at the same time in a single day. You may spend 1 or 2 nights in the hospital after your operation. General or local anesthesia will be applied before the surgery.
MOMMY MAKEOVER RECOVERY
Recovery time varies for every individual, and it also depends on the number of procedures performed. You may need to get 1 to 2 weeks off from work after the surgery. The final results appear after the recovery period or later (within a few months following your surgery).
Generally, you will experience swelling, bruising, and soreness during the first few days after the surgery. During this time, you should keep your physical activity to a minimum. Avoid lifting heavy things within a month after the surgery.
When Should I Consider to Go for a Mommy Makeover?
You can consider having a post-baby cosmetic surgery if:
The shape and size of your breasts have negatively changed as a result of pregnancy
You have unpleasant sagging tummy and stretch marks
Diet and exercise have not removed pockets of fat on your waist, abdomen, arms, or thighs
You'd like to return to a more youthful-looking body appearance
It is recommended that mothers who want mommy makeover procedures, wait at least 6 months after giving birth, or wait until breastfeeding is over. For mothers with grown children, mommy makeover procedure is appropriate as long as they do not plan to have more children.
Frequently Asked Questions about Mommy Makeover
Is mommy makeover safe?
With the great advances made in technology and medicine, today, several procedures can be done at once without a hitch. However, as for every other surgery, you need to have realistic expectations about the results and side effects.
For mommy makeover, the results are satisfactory and side effects rarely happen or subside in case of occurrence. Plus, considering the significant improvement observed in mothers' confidence after the surgery, the side effects are often neglected.
Is mommy makeover painful?
The surgery is pain-free as you'll be numbed during the operation. After numbing goes away, you may feel pain and soreness for a few days.
Is it better to have all the procedures at once for a mommy makeover?
In general, having a combination of mommy makeover procedures compared to scheduling separate procedures is very beneficial. This is because several procedures can be combined into one surgery, requiring one anesthesia and one recovery period.
What are mommy makeover side effects?
There are two types of side effects that you may expect to experience after the operation: general and specific side effects. General side effects can happen after any type of surgical procedure. They include pain, swelling, bruising, scarring, and adverse reaction to anesthesia. These items are temporary and gradually subside.
The second group is those side effects which may occur after a specific type of surgery. For example, for breast augmentation, there is the risk of implant rupture while tummy tuck does not entail such a risk. For more information, please read the related article for each surgery.
How can I get my mommy makeover arranged in Iran?
In order to have a smooth guaranteed mommy makeover in Iran, you can contact us through the above/below form or chat box. Our team of medical consultants is ready to give you any details you need with respect to your condition.
After we provide you with a free consultation and quote and upon your approval, we will arrange your medical trip and will stay by you from the very step until you're back home happy and healthy.