Nose reshaping surgery is one of the most common procedures, often done for aesthetic reasons. Technically referred to as rhinoplasty and commonly called 'nose job', this procedure is in high demand nowadays, both among women and men.
If you have plans to have a nose job in the near future, you probably want to know how long it takes for you to recover from the surgery. The downtime for a rhinoplasty procedure is very important because you want to know how much time you need to take off work for your surgery and recovery.
The recovery time for a nose surgery depends on different factors, such as the method of surgery (open and closed) and proper post-operative care. A closed rhinoplasty is less invasive than an open rhinoplasty, and thus takes a shorter time for recovery.
Most nose job patients usually are able to resume their normal activities and return to work in 7 to 10 days. However, the bruising and swelling that exist under the eyes and around the nose during the first 2 to 3 weeks might be a reason for some patients to take more days off work until these side effects improve to a point that they feel comfortable to go out in public.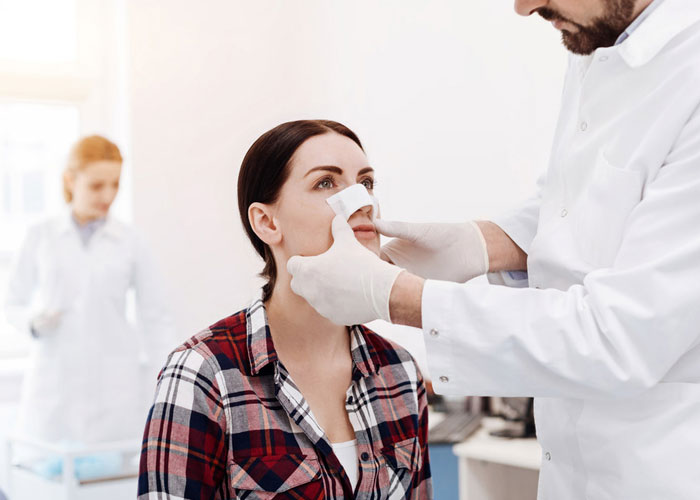 What will post-op rhinoplasty be like?
First week:
Splint:

Right after the completion of your nose job surgery, your surgeon places a nasal splint (cast) on or inside your nose (depending on whether an internal or an external splint is used). The splint is applied to give the nose support while it heals. It is removed 5-7 days after the surgery in a visit to your doctor's office.

Gauze:

For the first 2 days you normally need to wear a piece of gauze under your nose to absorb excess fluid and blood. You can change the gaze every 6 hours at home on your own.

Swelling and bruising:

It's completely normal to have bruising and swelling after nose surgery. Swelling reaches its highest point on day 3 after the procedure. After 3 weeks, swelling is only perceptible by you and your doctor. You can use a cold compress around your eyes and nose to reduce bruising.

Discomfort:

A mild discomfort is normal in the first week after rhinoplasty. It can be easily relieved by over-the-counter pain medications such as acetaminophen.

Congestion:

You will have a congested or stuffy nose due to swelling, which makes it a little difficult for you to breathe. As swelling improves, so does your breathing.

Soft food:

You are advised to eat soft foods during the first few days after your nose job surgery and avoid foods and fruits that require hard biting and chewing, such as apples and carrots.

Sleeping position:

Use your head elevated for the first week using more than one pillow.
If it's not an issue for you to be seen with bruises and swollen face, you can go back to work after one week, on condition that your work doesn't require strenuous physical labor and heavy lifting.
Nose Job Packages
Surgery + Hotel + Visa
Transfer + Interpreter
Second week:
Sutures coming out:

If you have an open rhinoplasty, the dissolvable sutures may start to come out on their own 10 days after your nose surgery, which is normal.

Bruising and swelling:

You will see the swelling and bruising improve or become invisible in the second week. Now you feel easier about going out and appearing in public.

Back to normal activities:

By the second week, you will be able to resume normal daily activities and light exercises.

Congestion:

Nasal obstruction during the second week post-surgery may still annoy you, but this will improve gradually as the swelling goes down.
Third week:
Minimum swelling:

By the third week following a rhinoplasty surgery, the swelling has subsided to a level that is barely visible by other people. By this time, you can see the initial results of your surgery.

Back to exercising:

 As your nose has healed to a great degree, you can resume most of your exercises.

Hidden scars:

Although the scar left after the surgery may be still red and visible at close range, you can easily conceal it with makeup.
One month after surgery:
Almost healed:

By the fourth week after surgery your nose will be completely healed, except for some degree of persistent swelling on the tip of the nose, which may last up to one year to fully subside.
After 2-3 months, the scar becomes almost invisible. Improvement continues for one year as the swelling goes down and the skin settles to fit the new underlying structure.
In short, the initial recovery from a nose job surgery is quick and takes 5-7 days, but the healing process continues for one year and even more. Also, it takes no more than 3 weeks for your face to look normal, with no telltale sign of a nose job surgery, except for the improvement in the shape.
You May Like to See Before & After Photos of Rhinoplasty
You May Like to See Before & After Photos of Rhinoplasty
Tips for a quicker rhinoplasty recovery
Use cold compress around your nose and under your eyes for 12-48 hours after surgery.

Avoid too much talking and laughing in the first few weeks

Avoid wearing glasses after your nose job procedure for two months. Learn how to wear glasses after rhinoplasty if you really need to wear glasses.

Have sufficient rest for the first week after surgery.

Have a pureed and liquid diet for the first week, including mashed potato, and chicken soup. Avoid tough foods and fruits that are hard to chew, such as apples and carrots.

Wash the inside of your nose at least 5 times a day using the washing solution your doctor prescribes for you.

Apply hydrogen peroxide to the suture lines inside the nose at least once a day using a cotton swab. Also, apply antibiotic ointment to the nostrils and surgical area 2-3 times a day.

Use a few pillows to keep your head elevated for sleeping. This helps to reduce swelling.

Stop smoking during the healing process (as well as a few weeks before surgery) because nicotine is really bad for healing.

Avoid intense physical activities and heavy lifting for 6 weeks after surgery.
Feel free to express your opinions or ask your questions regarding the article