Recovery after liposuction takes some time, but there are some steps you can follow to make the process go simpler and quicker.
When you're not able to burn the excess fat in your thighs, flanks, abdomen, or elsewhere through diet or constant exercising, liposuction comes in handy. It's the fastest and most effective way to lose fat pockets. No serious complications are involved after the surgery, and the patient usually gets back to their normal life within two weeks.
By the way, recovery can vary from one person to another, depending on the extent of the surgery and the amount of fat suctioned out. With all being said, the way you deal with your healing process can make a big difference in how fast you get back on the track.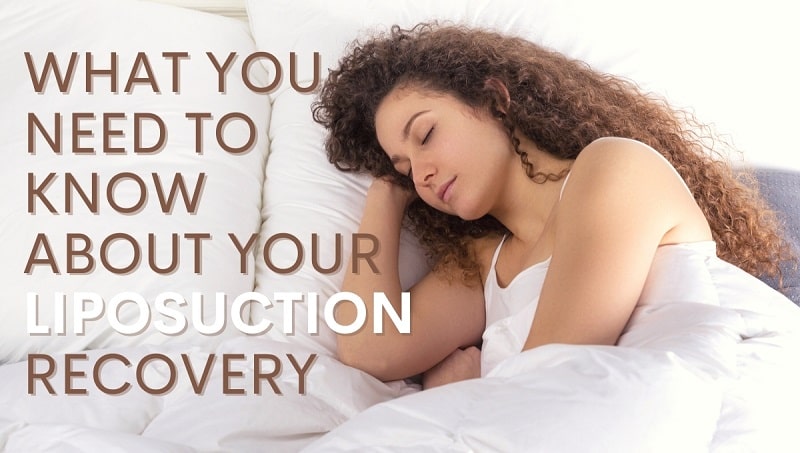 What to Do after Liposuction?
Follow your doctor's advice
Your doctor is the only person who is well aware of your condition and no one can better guide you through the recovery time than him/her. Discuss your condition with your doctor/surgeon and ask for recovery tips before or after your operation.
Don't let go of your compression garment
You may be required to wear a compression garment for 2 to 4 weeks after surgery. This garment reduces swelling and bruising observed at the surgical site, giving you a quicker recovery.
Rest more
After your surgery, get some days off and stay at home. Resting and sleeping can speed up your recovery and reduce your pain to a great extent.
Go on with a nutritious diet
It is important to stick to a healthy diet during your recovery after liposuction. Include more proteins as it promotes wound healing. Reduce salt and sugar as they negatively impact your immune system which is involved in healing.
Apply ice compress on the treated area
Ice reduces inflammation and eases your pain after surgery. Cold compresses create a positive effect in the surgical area, making the oxygen circulate better. Furthermore, the nerves become less sensitive to the pain.
Drink 10 glasses of water a day
Drinking water, milk, and fresh fruit juices help you stay healthier and get back to your normal routine sooner.
Massage for 10 minutes every day
To help your scar fade away faster, massage the surgery and incision sites with your fingers. This way you'll get the blood and oxygen flowing, which is a great way to minimize scar marks. Massage can also reduce swelling as it does not let the fluids accumulate beneath your skin. Read our article on how to reduce swelling after liposuction to learn more.
Go for brief walks
While we advise you to sleep and keep up with a minimum amount of exercise, we also ask you to move and walk from the second day of your recovery period. Walking helps prevent blood clots after surgery.
Liposuction in Iran
Surgery + Hotel + Visa
Transfer + Interpreter
What Not to Do after Liposuction?
Don't exercise for 2-4 weeks
You should avoid serious exercising, heavy lifting, or bending during recovery after liposuction. After around two weeks, you can return to exercising gradually. However, you should be careful about the level and intensity of your activities as high impact activities may not be tolerated by the end of the first month or more.
Don't miss your doctor's appointments
It's very important to get through your recovery period under the supervision of your doctor. Especially, in case of excessive bleeding, constant pain, swelling or fever, you have to call/meet your doctor right away.
Don't drive
While you're taking antibiotics during your recovery period, try not to drive. Ask someone to drive you home after surgery as you are not allowed to drive.
Don't say "

yes

" to sex!
Your body needs some time to adjust to the alterations made through liposuction. To determine how soon you can have sex with your partner after lipo, you need to consult with your doctor. Usually, if it's a less invasive and intense procedure performed on your arms, breasts or chin, you can turn back to sex after a few days. If it's a more invasive procedure done on your thighs, belly or other parts of your body, you can resume your sexual relationship after around 10 days.
Don't drink and don't smoke
Drinking alcohol and smoking can interfere with your healing process. These habits can impact wound healing adversely. Stop them one month before and after your surgery.
You May Like to See Before & After Photos of Liposuction
You May Like to See Before & After Photos of Liposuction
Liposuction is not an overnight solution to the unwanted fat you couldn't lose through diet or hard work. It's a procedure that needs care and attention. You can achieve the optimal results by sticking to a healthy lifestyle and following your doctor's instructions. In the end, if you have any further questions with regard to your surgery and post-op care, feel free to contact us now by messaging us from the chat box below or on WhatsApp.
Feel free to express your opinions or ask your questions regarding the article