Rhinoplasty (Nose Job) in Iran… Many people who are not satisfied with the shape of their nose, or have difficulty breathing, or other functional problems, choose to undergo Rhinoplasty. It is noteworthy that Tehran has proudly been selected as the world's capital of nose job, since every year more than 80 thousand successful nose job surgeries are performed in Iran, mainly in Tehran, under highly skillful hands. Depending on the type of your nose, and the medical or cosmetic procedure that will fulfill your desire and needs, our plastic surgeons choose the most suitable technique.
Generally, Rhinoplasty is carried out using two techniques: open technique, and close technique. The type of the surgery depends on whether you are having a Rhinoplasty for the first time (primary Rhinoplasty) or it is your second or third time (revision or secondary Rhinoplasty).
Popular Procedures

: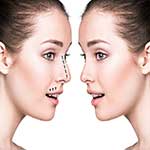 Primary Rhinoplasty (Nose Reshaping Surgery)

Primary Rhinoplasty refers to the fact that the patient has not undergone any nose surgery before, and it is his first Rhinoplasty. Primary Rhinoplasty can be performed both to correct the shape of the nose and treat breathing problems due to structural problems.
In primary Rhinoplasty, excess bone and cartilage is removed from beneath the skin that covers the nose. Cartilage grafts may also be added to help remodel the nose. Primary Rhinoplasty may take one to two hours.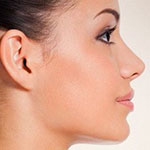 Secondary Rhinoplasty (Revision rhinoplasty)
The main purpose of secondary or revision Rhinoplasty is to fix the results of previous unsuccessful Rhinoplasty(s). However, it is highly recommended that you should wait at least a year after the first Rhinoplasty, so that all swelling subside. Secondary Rhinoplasty can also be done to repair functional issues, like difficulty breathing. Most probably, cartilage may be added or taken away during the surgery to recreate symmetry. The whole procedure may take up to four hours.