You have weighed up the benefits and risks of medical tourism for a certain procedure, and it seems to be the best option for you. Yet, there is one thing that you are still concerned about: what about postoperative care?
At AriaMedTour, we make sure you experience a convenient trip, a safe and successful surgical procedure, and a recovery that is both effective and free of complications. We believe that post-treatment care is just as important as the surgery itself. Therefore, helping you during recovery is a crucial component of our services. Read on to learn more about AriaMedTour post-op services and follow-up care.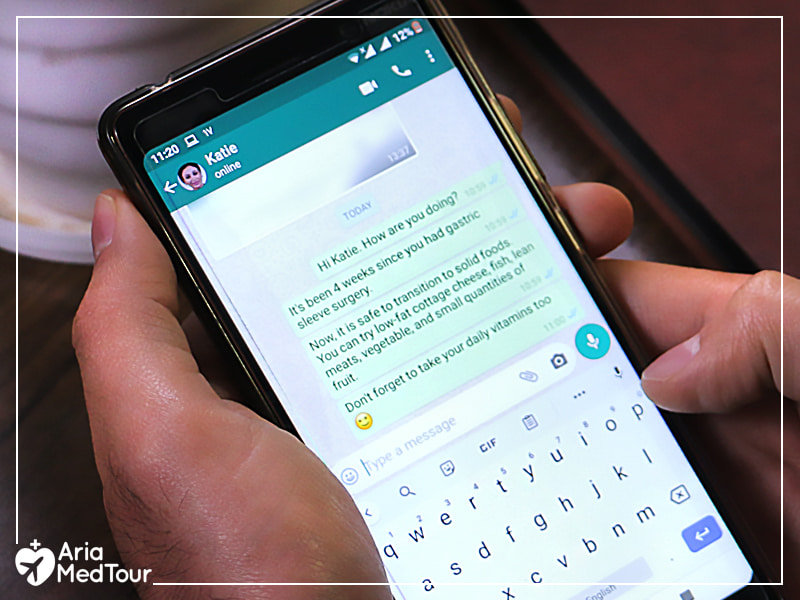 Surgery post-op care and follow-up
The postoperative care is the care you receive after a surgical procedure, both immediately after the treatment and during the recovery period. It consists of nursing during your hospital stay, follow-up, home care, healthcare support during the recovery and the like.
Weeks and even months after the surgery, your body will continue to heal and the results of most cosmetic procedures won't be settled for about a year after the procedure. That's why our follow-up care services go beyond your hospital stay. We have made sure each and every stage of our patients' recovery is professionally taken care of.
Will I be alone while recovering in the hospital?
AriaMedTour services include but are not limited to taking care of you while you are in the hospital. If a hospital stay is required after your surgery, AriaMedTour will provide you with a patient coordinator to be with you right after the surgery until you are discharged from the hospital.
In addition to assigning someone to be by your side, AriaMedTour support team will stay in touch with the hospital to ensure your recovery is going well.
Iranian hospitals are fully equipped with high-tech facilities for medical tourism. In many Iranian hospitals, you will be admitted to the International Patients Department (IPD). AriaMedTour collaborates with such hospitals and based on where your surgery might take place, you might be able to benefit from these facilities during the recovery.
How would it be like to recover in the hotel?
If a hospital stay is not needed, you may return to the hotel. We will routinely check up on our patients while they are staying in the hotel. A patient coordinator will also come by every other day to cater to you with your requirements. Moreover, AriaMedTour's healthcare team will continue keeping in touch with the hospital on your behalf to update the medical staff on your condition.
How is my post-op medical appointment arranged?
After most surgical procedures, it is important to meet your doctor for a series of matters, e.g. the surgeon might have your stitches/cast removed or provide you with important post-op instructions.
When you get everything arranged by AriaMedTour, you won't need to worry about setting medical appointments at all. AriaMedTour will schedule all of your medical appointments, including the one you will have following the surgery. Our team communicates with the doctor's office and will schedule the post-op doctor's appointment months before you arrive in Iran.
Once it is time for your follow-up medical appointment after the surgery, your patient coordinator will pick you up from the hotel. Since he or she will be able to communicate both in Farsi and in a language you can speak, the language barrier won't be a problem during the medical sessions with your surgeon.
How does AriaMedTour help me fly home safely?
You need your surgeon's approval in order to get on a plane as flying after certain procedures can be dangerous. AriaMedTour team is constantly in touch with your surgeon and will make sure he or she approves of your getting on a plane. Once your surgeon approves that you are fit to fly, we can arrange for your flight back home.
How can I stay in touch with my doctor after I return home?
Keeping in touch with your doctor is not so easy, particularly when you are miles away from them and they speak a language you are unfamiliar with. AriaMedTour care team is available to respond to all inquiries from the patients. Our team can communicate in more than 4 languages and are online 24/7. We keep track of each patient's medical records so that we can provide them with a customized answer based on their case.
You can stay in touch with a medical adviser for as long as you want. These healthcare specialists can provide you with appropriate answers as soon as you seek medical advice. You can also ask for your doctor's opinion through your communication with our team.
Your medical coordinators will also keep enquiring about your recovery. They will provide you with medical instructions, suggesting dietary tips, exercises, and other medical recommendations that can boost healing or enhance surgical results.
Can I ask for my medical documents back at home?
In order to ensure an effective recovery, you might want to have additional post-op medical appointments at home and with another doctor. We can provide you with a comprehensive report in English regarding the procedure you have had in Iran along with test results or letters from the doctor. We can also provide you with a doctor's note in case you need one.
Is there any insurance or guarantee for the procedure?
AriaMedTour works with handpicked surgeons and highly equipped medical centers. As a result, we have managed to diminish the postoperative risks and complications for our patients. Yet, any surgical procedure (including those performed in the most profound countries) might be followed by unforeseen complications. To give our patients peace of mind, our medical packages include guarantee and insurance.
Read more: AriaMedTour's Guarantee and Insurance Policy
The importance of having a medical tourism facilitator in Iran 
We understand how intimidating it might sound to undergo surgery abroad. Most patients are skeptical about the decision, especially regarding their postoperative care and the outcome of the surgery. That's when the role of medical tourism facilitators comes as crucial.
A reputable medical tourism facilitator agency will not only streamline the entire process of planning a medical trip but also take measures to ensure you won't have to worry about the recovery at all. It is the agency's responsibility to make sure you are happy with the results and satisfied with the experience.
AriaMedTour is the leading medical tourism facilitator in Iran. The company's coordinators will develop a follow-up plan for both during your stay and after you leave Iran. You will have routine follow-up checkups for months after the surgery. When required, we can also manage to provide you with a complete set of medical documents you can show to your physician at home.
Note: AriaMedTour offers packages for an array of medical and cosmetic procedures. This guide may not include recovery and post-op care specific to each procedure. We recommend that you ask our medical experts regarding the follow-up care of the treatment you are going to receive in Iran since each procedure is different in terms of its recovery timeline, precautions, results, etc.