"Hello, I'm interested in one of your rhinoplasty packages," was the beginning of a WhatsApp conversation that finally brought Kevin from Los Angeles, California to Tehran, Iran for a couple of aesthetic procedures.
Born and raised in Los Angeles, Kevin has a Persian lineage from his mother's side, but this hasn't made him less American, though he understands a little Persian and has been to Iran before when he visited the country with his parents during childhood.
This time, Kevin's trip to Iran was different from the one he had many years ago. He came for a different experience – for surgery.
Back in the United States, an adventurous Kevin broke his nose 'multiple times,' according to him, which caused a nasal problem technically known as a deviated septum, making it difficult for him to breathe normally.
This made a septoplasty – a nose surgery to correct the septum – inevitable for the young man to get rid of his breathing troubles.
Kevin also had issues with his thinning hair and receding hairline and was thinking about having a hair transplant procedure to lower his hairline and get thicker hair on his crown area.
Having heard about the quality of doctors and affordable prices for cosmetic procedures in Iran, Kevin made up his mind to visit the country for a second time to have his nose and hair transplant procedures done, as well as to explore his motherland.
The destination is chosen, but it would be too unwise to hit the road without planning ahead and doing the arrangements for his surgery.
So Kevin started to search on the internet to find a qualified Iranian doctor, and he came across our website in the process.
After browsing the website for a while, he deemed us the best agency to help him with choosing a surgeon and organizing his travel to Iran.
He got in touch with us and had a detailed consultation about his procedures, visa, hotel, and everything else.
After helping Kevin get a visa for Iran, we completed the nose surgery and hair transplant arrangements for him according to his travel schedule. He finally took a flight and arrived in Tehran and stayed in a luxurious hotel.
The next day, one of our patient guides picked up Kevin from his hotel and took him to the doctor's office for a pre-operative consultation.
The doctor had a conversation with him, talking to him about the procedure and listening to his complaints and desires. After undergoing some pre-op tests, Kevin got prepared for his surgery the next day.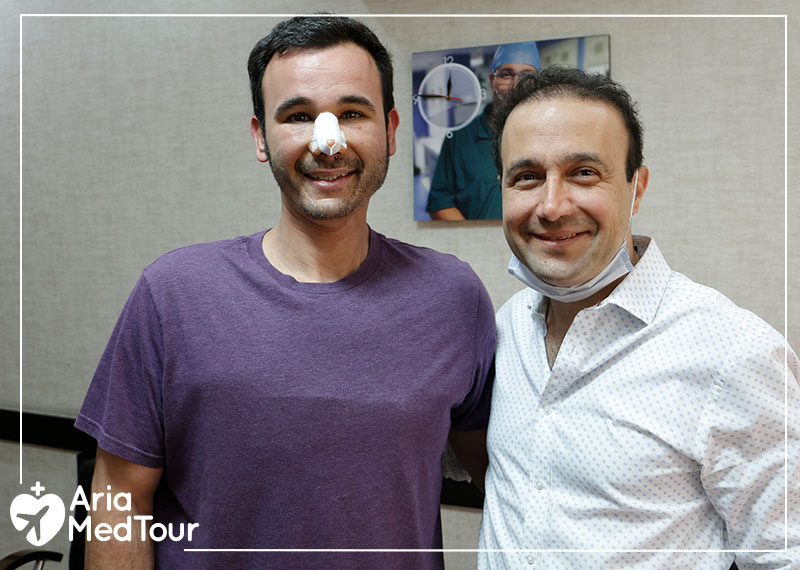 After arriving in Iran, Kevin decided to have a body contouring procedure as well. So in order to lower the cost of the procedures, we proposed that the two procedures be done simultaneously, that is to say, both the septoplasty and body contouring procedures be performed in one surgery session with one anesthesia.
This was welcomed by Kevin, as it would save him the cost of one anesthesia and operating room.
On the third day of his stay in Tehran, Kevin finally went under the knife at a modern hospital in Tehran.
His deviated septum was corrected and his nasal shape was improved by one of the most experienced rhinoplasty surgeons in Tehran.
Another surgeon then operated on his chest and abdominal area to improve its appearance.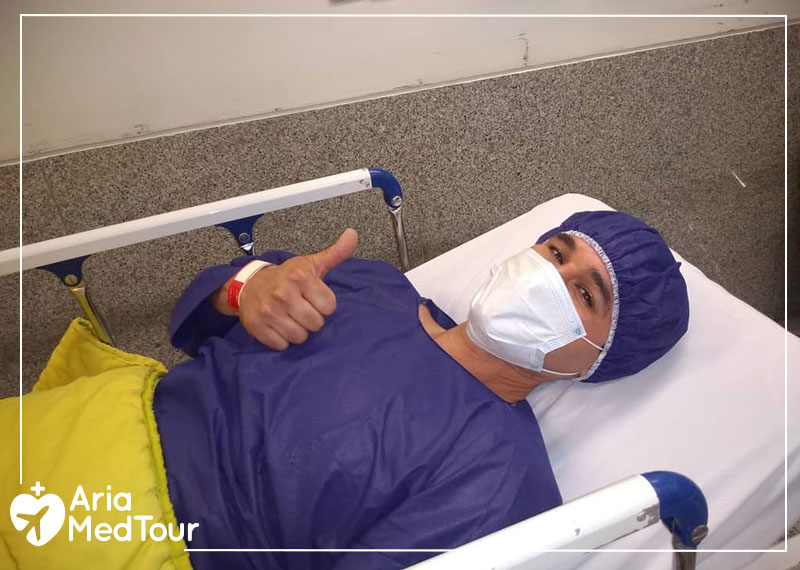 The surgeries both went well, and Kevin was up and walking a few hours after the surgery.
After making sure that he was well enough to go home, the medical staff let Kevin leave the hospital for his hotel.
After the discharge process was completed with help of his guide, he was discharged from the hospital and went to his hotel with her.
Eight days later, Kevin had to get his hair transplantation procedure. It was performed at a well-equipped clinic in Tehran by an expert team of hair transplant specialists.
The procedure involved removing hair follicles from the back of his head and transplanting them to the crown and hairline areas. Kevin was again accompanied to his hotel by his personal interpreter.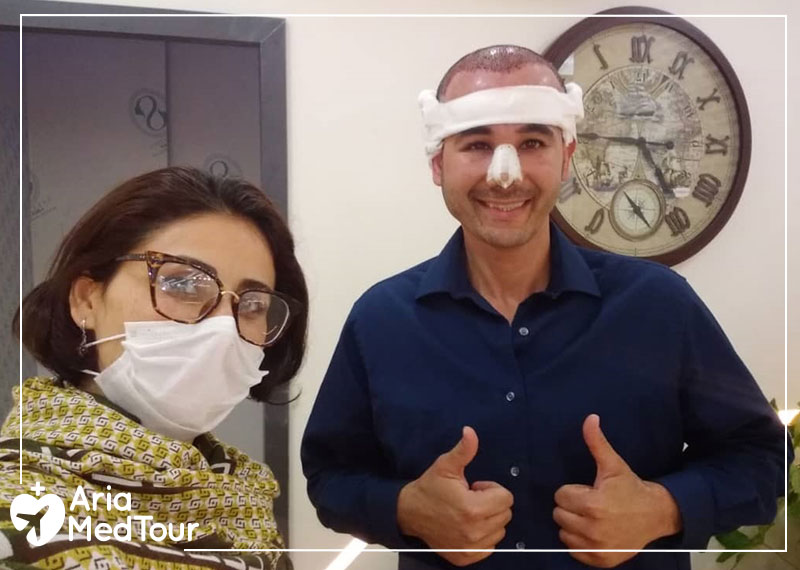 In the space of a week between his two surgical appointments, Kevin had other things to do to get the most out of his journey.
As he is an avid driver, he rented a car and drove to Mashhad to visit the shrine of Imam Reza on behalf of his mother. He also had a fun time in Tehran. He did some sightseeing in Tehran, including a visit to Eram Zoo.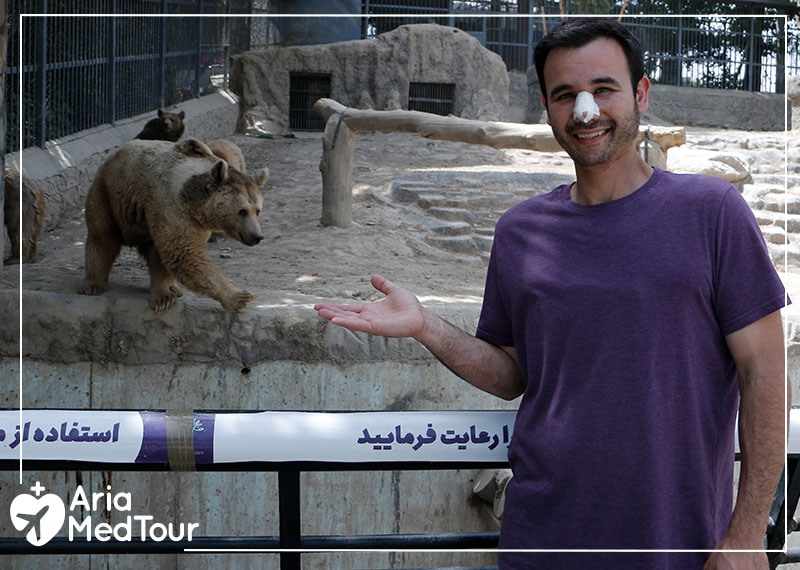 Kevin is a little bit of a gourmet and he runs a restaurant back in California. So he went out to restaurants in Tehran and treated his palate to a variety of Persian food – among which he loved Ghormeh Sabzi and Kaleh Pacheh.
He also visited our office and amicably conversed with our staff and had lunch with them.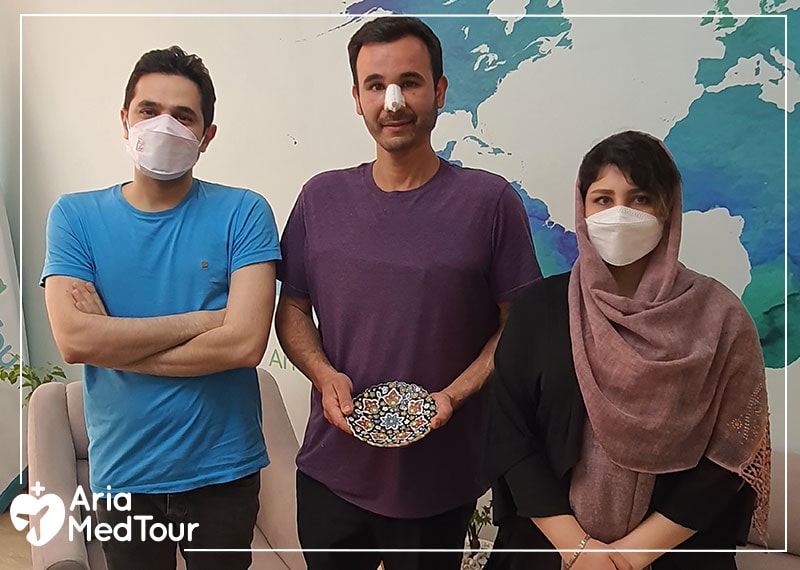 But Kevin didn't get enough of Iran this time, and his medical procedures didn't allow him to explore the country more. He said that he would come back to Iran sooner or later to see other cities as well.
We can't wait to see Kevin in Iran again!
FROM THE USA
See videos and photos of other AriaMedTour patients from the USA.
Our Rhinoplasty Patients Have A Word With You
Take a Look at Our Rhinoplasty Patients' Testimonial Videos
From all around the world
We have provided service to patients from more than 65 countries. Click on your country's flag to see your countrymen's testimonial videos and photos.