The human Barbie doll came to Iran last year to have a nose revision by Dr. Farshid Mahboubirad. She chose Iran for a rhinoplasty for she believed the country is a pioneer in nose surgery.
Pixee Fox, a Swedish beauty model currently living in North Carolina who is known for her mania for plastic surgeries has spent over £500,000 undergoing 200 operations, including having six ribs removed and her jaw broken. She chose Iran for a nose revision surgery as the country offers the highest quality nose operations in the world.
Talking in front of a camera in an Iranian hospital next to Dr Mahboubirad, she expressed her satisfaction with the reception she received in Iran. She was happy with the arrangements and the accommodation facility. She said she wanted to make her nose 'semi-fantasy'.
Pixee's ambition is to make herself look like cartoon characters Holly Would, Jessica Rabbit, and Aurora.
"I don't do this for vanity," she said on a TV show about her countless surgeries. "I am a pioneer; I am pushing the beauty industry forwards."
She has had 200 other plastic surgeries, including six ribs removed, four boob jobs, two rounds of liposuction, labiaplasty, butt lift, and even an eye color change.
"For me, there is something beautiful about plastic surgery even though I know it is not for every one," she wrote on her Instagram under a video of her nose revision surgery recovery timeline, tagging Dr. Mahboubirad's account. "I see myself as an artist sharing what I am passionate about."
"THANK YOU FARSHID FOR GIVING ME MY DREAM NOSE," a caption at the end of the video clip reads.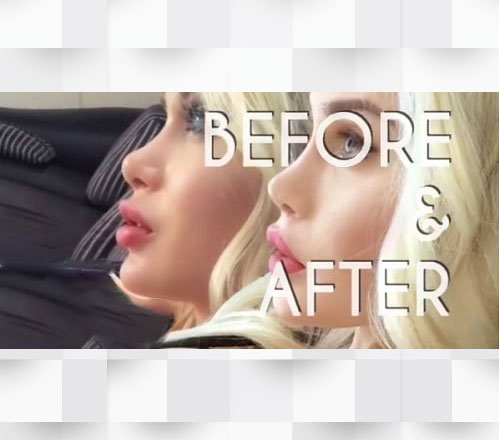 Nose Job Capital
Iran is named the nose job capital of the world for having the highest rhinoplasty surgeries per capita. Iranian nose job surgeons are highly skillful and experienced. The demand for rhinoplasty surgery is so high that it has made the Iranian plastic surgeons extraordinarily prolific so much so that some of them have several ops a day.
Not only is the quality of rhinoplasty in Iran exceptional, but the affordable costs are also eye-catching. People from around the world are increasingly flocking to Iran to get their noses under the knife, and Tehran is now the hottest destination for nose job candidates.
FROM USA
See videos and photos of other AriaMedTour patients from USA.
Our Nose Job Patients Have A Word With You
Take a Look at Our Rhinoplasty Patients' Testimonial Videos
From all around the world
We have provided service to patients from more than 65 countries. Click on your country's flag to see your countrymen's testimonial videos and photos.