It's been a hard time for Hiba after doctors refused to operate on her ear one after another following an unsuccessful surgery that didn't cure the problem.
When the 31-year-old Syrian first realized that there was something wrong in her left ear, which caused dizziness, perception of a buzzing noise in the ear — known as tinnitus — and ear fullness, she didn't know that things would get so complicated.
Hiba underwent ear surgery back in Syria after a doctor wrongly diagnosed her condition as an ear polyp, while it actually was a glomus tumor that was to blame for the symptoms she was suffering. "After the operation, the doctor told me that he did not see a polyp in the ear as he expected," she said. "He took a sample that was analyzed in the laboratory after the surgery. It turned out that it was a tumor, not polyp."
The surgery did some good but fell short of addressing the root cause of the problem. After a period of abatement, the tumor recurred and the old symptoms returned with greater severity. Hiba felt that there was a lump in her ear, causing a sense of fullness that obstructed her ear. She also had dizziness, tinnitus, diminished hearing, and pain.
The aggravated disease caused the young lady to seek medical attention once again. She saw many doctors in Syria and Iraq, including one in Erbil, but none of them accepted to operate on her ear.
Desperate in her attempts to find a surgeon to help her get rid of the frustrating disease, Hiba heard about Dr. Saeedi, an ENT specialist in Tehran. "I heard about Dr. Masoumeh [Saeedi] and read a lot about her and her experience in removing the tumor."
Shortly after learning about Dr. Saeedi's expertise, Hiba came to Iran with her family for treatment. She had all the arrangements made by AriaMedTour, including appointments with the doctor, hotel, transport, and translator.
A series of tests and examinations in Iran showed a middle ear tumor in her left ear and mastoid. A mastoidectomy surgery was performed for Hiba and the tumor was completely removed. Four days after the surgery, Hiba visited her doctor at her office for a follow-up. Fortunately, she didn't develop any complications such as facial paralysis, brain nerve damage, or bleeding, which are potential complications of this surgery.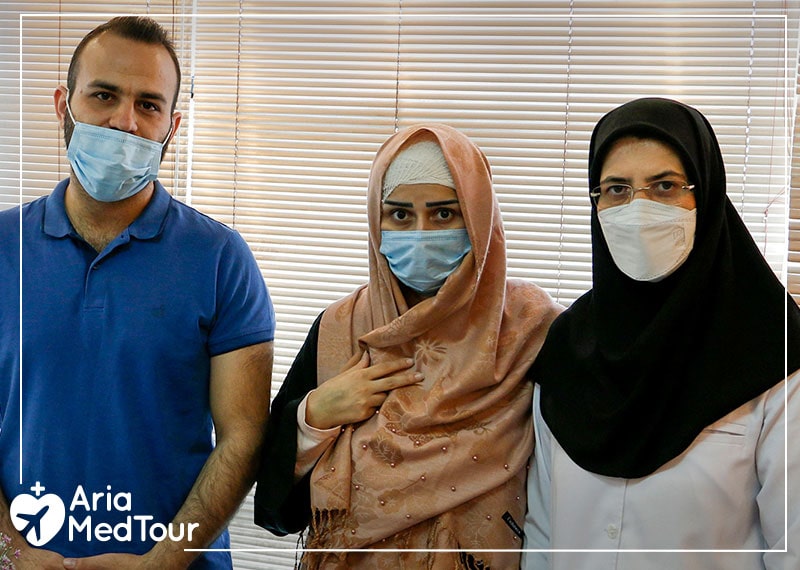 With her treatment completed, Hiba was ready to return home. She will come back in a year to see her doctor again for a check-up, but this time she has high expectations that her ear problem would have gone for good.
FROM SYRIA
See videos and photos of other AriaMedTour patients from Syria.
Our Medical Patients Have A Word With You
Take a Look at Our Medical Patients' Testimonial Videos
From all around the world
We have provided service to patients from more than 65 countries. Click on your country's flag to see your countrymen's testimonial videos and photos.