Plastic surgery of celebrities are always trending news because they don't always admit to undergoing cosmetic procedures. The truth is that not all your movie idols are born with perfectly sculpted faces and bodies but they get lots of help from plastic surgery to subtly reshape their features in a way that you can't recognize it at first glance. One of the most popular cosmetic procedures sought by celebs is nose job.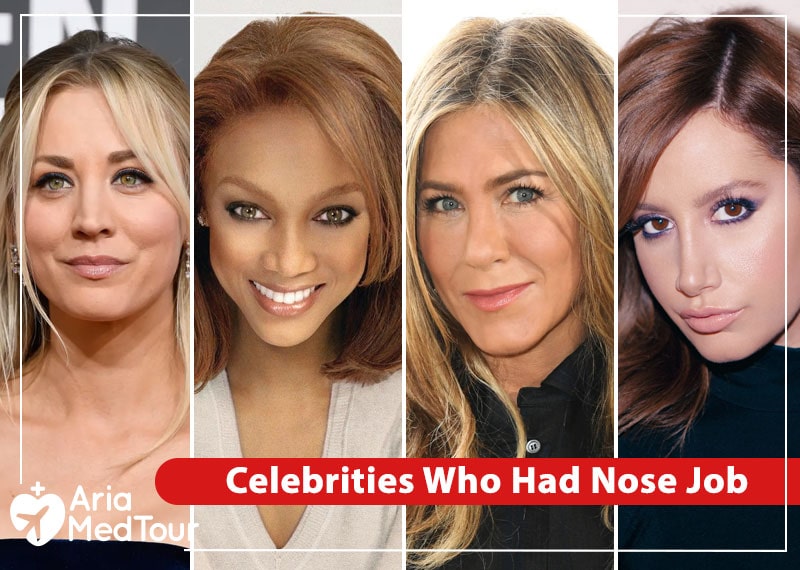 There are always lots of speculation about celebrities who have had nose job, some of which is denied forever. People like Angelina Jolie, Scarlet Johansson, Sandra Bullock, Halle Berry, Gwen Paltrow, Jennifer Lawrence, Kate Middleton, Blake Lively, Jenifer Lopez, Beyonce, Miley Cyrus, Ariana Grande, Paris Hilton, and Bella Hadid have been the subject of such speculations but they never admitted to such plastic surgeries. Some of them even threatened such reports with legal action.
Male celebrity nose jobs are not an exception as there are rumors about Tom Cruise, Robert Pattinson, and Ryan Gosling to have had nose jobs but no confirmation from them either.
Some celebrities claim that the changes to their nose are due to the natural aging process which might be true but only an experienced plastic surgeon can tell.
On the other hand, some brave celebrities candidly admit to having gone under the knife to re-sculpt their nose which has helped their career.
In this article, we will review 20 of the most famous celebrities who admitted to their nose job. You can see the before and after rhinoplasty photos of these celebs and see the difference the procedure made to their faces.
Jennifer Aniston nose job
People's favorite of all time and TV show Friends' star has admitted in 2007 that the best thing she ever did was to get a rhinoplasty which helped her "sleep like a baby". It was for fixing a deviated septum but the subtle nasal tip contouring probably helped her career too.
Kaley Cuoco nose job
The big bang star whose beauty is admired by many women around the globe has admitted in a 2016 interview with Women's Health that she has had a nose job and breast augmentation procedures and they were the "best thing she ever did". Of course, she still believes in being true to herself and loving her inner self but she also wants to look good. "I don't think you should do it for a man or anyone else, but if it makes you feel confident, that's amazing," she says.
Anne Hathaway nose Job
The one and only, The Princess Diaries actress admitted she felt pressure from the Hollywood culture to look more beautiful so she got a rhinoplasty early in her career, which worked for her.
Cameron Diaz nose job
Although a surfing accident in 2003 broke the nose of Charlie's Angels star for the 4th time and forced her to undergo plastic surgery, she was smart enough to also reshape her nose to a more defined one. She told W Magazine that the accident had shattered one side of her nose and her septum was like a train derailed that didn't let her breathe at all. All those problems were corrected by a good plastic surgeon but her beauty benefited too.
Lisa Kudrow nose job
She, just like her Friends' costar Jenifer Aniston, bravely admitted that at only 16 underwent a rhinoplasty that altered her life forever. She was moving to a new high school so her surgery was done first which seems a smart move for a teenager.
Khloe Kardashian nose job
The bravest of the Kardashian sisters admitted in the KUWTK series finale reunion to have had a nose job but was surprised that people wouldn't believe it was the only procedure she had done.
Tyra Banks nose job
She is known for being a beautiful supermodel but she is not afraid of admitting that plastic surgery helped her career. She wrote in her 2018 memoir, Perfect Is Boring, that she got her nose surgery early in her career because she felt that bones were growing inside. Since she is an avid advocate of natural beauty, she feels responsible, to tell the truth.
She has an interesting outlook about life that "There is a boundary line, either you're super natural or you live at the plastic surgeon. It's okay to hop back and forth over that line. You want a hair weave? Fine. You want permanent eyebrows? Fine. We as women need to stop judging."
Jillian Michaels nose job
She might be the guru of all fitness enthusiasts but she also has a beautifully defined nose who she credits to the surgery she got at 16. She famously admitted that she was bullied for years for having "a nose the size of a softball" that encouraged her to have rhinoplasty and smooth it out. Her life changed afterward and she felt more confident.
Ashley Tisdale nose Job
She also had a deviated septum on the right side that created breathing difficulty all the way growing up and even got worse to an 80% deviation in 2007. She also had two small fractures so she chose rhinoplasty to fix the problem for her health but also asked for some reshaping to get a beautifully defined nose that she has today. She told People magazine that she wanted to be honest and to let her High School Musical fans know that she has done it because "her fans are everything to her."
Dianna Agron nose job
She has broken her nose not once but twice according to her interview with David Letterman in 2011. The first accident occurred at a high school party and the second was during the filming of Glee. Not on the set though but during a day off that she spent with her friends dancing. The accidents left no choice but to get a rhinoplasty to correct the broken structure.
Ashlee Simpson nose job
Although never admitting it herself, the singer's dad and then-manager told Fox News in 2007 that she had a problem with her breathing which was solved with plastic surgery. The rhinoplasty also straightened her hooked nose bridge which made her sexier.
Iggy Azalea nose job
The singer is so proud of her rhinoplasty that in 2016 she wished her Iranian plastic surgeon, Dr. Ashkan Ghavami, a happy birthday on Instagram saying she holds him in high regard, for giving her a "fabulous nose and breasts".
Courtney Love nose job
The singer has openly discussed fixing her nose in 1980s on Jimmy Kimmel Live in 2014, something that changed her life and probably "the whole world" in 6 months. Despite being an actress in the 80s, she accepted the fact that her nose was big and was not taking her anywhere but the radio. The good rhinoplasty opened up opportunities for her career, which she never regrets.
Roseanne Barr nose job
In an interview with People magazine in 2003, the comedian said that she was proud of her rhinoplasty that made her round nose narrowed and, in her words, "perfect".
Tori Spelling nose job
The Beverly Hills 90210 actress told People magazine in 2000 that all she has done is a nose job that worked for her.
NeNe Leakes nose job
Although she wanted to look like herself, the black woman that she is, NeNe Leakes did get some help from a good plastic surgeon that performed an alar base reduction on her nose to create a more defined nose with smaller nostrils in the Real Housewives of Atlanta.
Kathy Griffin nose job
She told People magazine in 2009 that she had been constantly told during the early years of her comedy career that she could have gotten more roles if it wasn't for her nose. In her own words, she had a nose "the size of Texas." So, she went under the knife and the rest is just history.
Heidi Montag nose job
The Hills star told People magazine in 2010 that she never felt more beautiful and sexier in her life after having 10 cosmetic procedures in one day at just 23, one of which was rhinoplasty. A new face, new energy, and an upgraded version of herself were what she saw. Explaining further, she said she was made fun of after moving to LA and it was the beginning of the comment section on the web so she developed insecurities and find the perfect solution in plastic surgeries to make her perfect.
Farrah Abraham nose job
The star of The Teen Mom OG, has always been candid about her rhinoplasty and other plastic procedures that include three boob jobs and butt injections. In 2012 she told In Touch the surgeries were worth it.
Josh Hutcherson nose job
The "Hunger Games" actor had his deviated septum fixed in 2012 and tweeted it to the world. "Just had surgery to fix my broken nose. recovery sucks…thank god for a marathon on lifetime…#theclientlist," he tweeted.
Medical & Cosmetic Treatments