You can convey both your general appearance and your feelings to others through your eyebrows. Although not all people are born with perfect eyebrows. Sometimes it's genetic and sometimes accidents or diseases can result in the shedding of eyebrows or similar problems.
In this regard, men and women are always looking for a way to shape their eyebrows more beautiful so that they can have a better face. Traditionally, women have been using make-up products to make their eyebrows seem thicker. Nevertheless, there is an increased interest in more longer-lasting solutions.
Microblading and eyebrow transplantation are currently available options.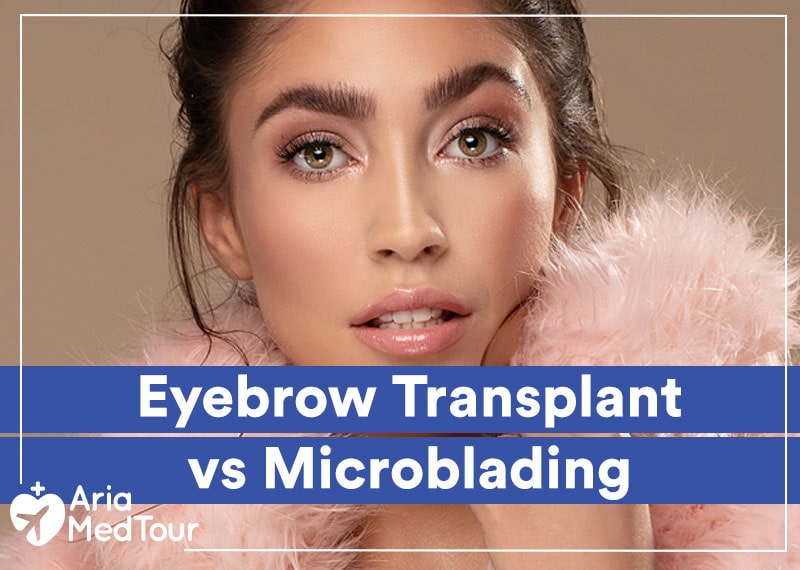 In this article, we examine the differences, advantages, and disadvantages of microblading and eyebrow transplant. Keep reading!
Microblading: How does it work?
Microblading, also known as "feather touch" or "micro-stroking", is a new manual method of cosmetic procedure that has replaced the old methods of tattooing and micropigmentation. It is done by a hand-held tool with needles that implants color pigments into the eyebrow surface. If the pigments used in the procedure are compatible with eyebrow hair color, the result will be very natural.
Microblading is a very sensitive procedure that requires an experienced specialist. In Iran, it is performed in cosmetic centers by trained and licensed technicians. However, unlicensed technicians might also do this procedure, depending on the center in which they are working. Therefore, you should do good research before taking any action.
Advantages of Microblading
The person can select the desired shape and size of the eyebrows.
The lines that form on the eyebrows are irregular in shape, which makes the eyebrow hairs look natural.
It is somewhat cheap.
Has a short recovery period of 7-14 days.
The result can be seen instantly after initial treatment.
Disadvantages of Microblading
It is not permanent and needs a "touch-up" every 8-30 months depending on the skin type and the quality of color pigments.
The procedure is not painless despite the use of topical anesthetic.
After the procedure, you will have small cuts on the brow area that are exposed to any kind of infection and must be taken care of carefully.
When performed by a non-professional technician, it leaves an undesirable result because its appearance depends on the technician's drawing skill.
Eyebrow Transplant: How it works?
Eyebrow transplant is a surgical procedure in which hair grafts and follicles from donor's hairs are transferred to the eyebrow area. The process must be done by a cosmetic surgeon under local anesthesia and takes 2-4 hours. Not long after the surgery, the transferred hair will fall out and new ones will grow. Even if your eyebrows are completely bald in one area, new hairs that are resistant to hair loss will start to grow a few weeks after the operation.
You may wonder if these donor hairs might fall out and cause baldness in the donation area. In response, we must say that the hairs in the donation area, which are usually from behind the ears or the nape of the neck, are very resistant to the hormones that cause hair loss and never fall out.
The medical skill of the surgeon is very important. Because he/she should pay attention to the pattern in which eyebrow hairs grow and plant the follicles in a way that is in harmony with the direction of other eyebrow hairs. In Iran, there are many proficient cosmetic surgeons that are very tasteful and delicate in eyebrow transplantation, and with their brilliant background in cosmetic operations, they can offer you the best results.
Advantages of Eyebrow Transplant
You can choose the preferred size and shape of the eyebrows.
It is permanent and the hairs will continue to grow for the rest of your life.
The hairs look completely natural since they are your own.
The recovery time is short (about 3-6 days.)
The transplant is done in one operation and does not need a touch-up.
Disadvantages of Eyebrow Transplant
Some of the follicles might not produce new hairs or the hairs grow in different misaligned textures.
The procedure is costly.
After the transplant, your eyebrows may not be thick enough.
It takes several months, up to 1 year, to see the desired result.
This planted hair can continue to grow for the rest of your life. Therefore, it is necessary to cut eyebrow hair once a month.
Microblading vs Eyebrow Transplant: Which one is better?
Microblading and eyebrow transplant are both great ways to have beautiful eyebrows. The choice between these two methods is up to you.
As you have learned so far, there are some differences between eyebrow transplant and Microblading.
Microblading is semi-permanent and needs restoration about once a year; while eyebrow transplant is permanent and requires no touch-up.
The result of microblading is almost instant while with eyebrow transplant, it may take about a year for the outcome to reveal itself.
Microblading is more affordable than eyebrow transplants.
In comparison to microblading, eyebrow transplants offer more natural results due to the use of natural hairs.
If you are afraid of having surgery and want to see the result in the shortest time, microblading is an ideal method.
Whether or not to choose any of these methods depends on your purposes and interests. Now, according to what your desires and interests are, and by knowing the advantages and disadvantages of each procedure, you can choose the best way to make your eyebrows more appealing.
Medical & Cosmetic Treatments