Your skin is your most precious clothes, but as you age, it starts to undergo certain changes that makes it look old, loose, and wrinkled. You may wonder: "Is there any non-surgical way to tighten sagging skin, reverse skin aging, and make it look firm and smooth again?" Keep reading to find out.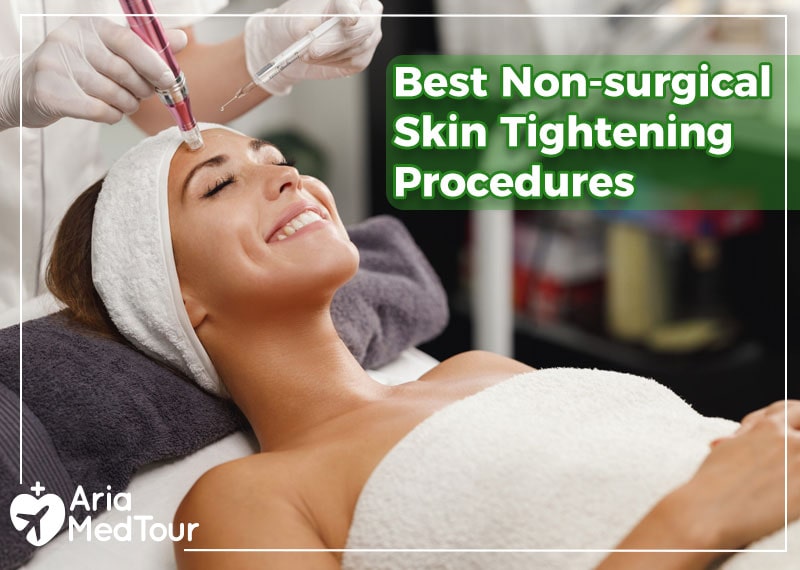 What causes loose skin?
Underneath the skin's surface, there is a network of natural collagen and elastin fibers that help you have a dynamic and solid appearance. After a certain age, this network begins to break down, lose its firmness and elasticity, and take a more relaxed shape, which causes sagging skin.
Other factors might also speed up this process, including exposure to environmental pollutants, sun damage, smoking, and excessive drinking. Pregnancy and massive weight loss are also other common causes of sagging skin of the body, especially on the stomach, waist, and thighs.
Is there any non-surgical treatment for loose skin?
Do you need to go under surgery to get rid of your wrinkles or saggy skin? Not necessarily!
There is a range of non-surgical skin tightening procedures that can help you make your skin firm and tight again and go back to your younger version, no matter what skin tone you have. Fantastic, right?
Non-surgical skin tightening procedures
Overall, there are three types of non-invasive procedures widely used by dermatologists for skin tightening. These procedures are based on three technologies:
Radiofrequency (RF)– heats the skin and its collagen and elastin fibers to 42°-43°C to make contraction in desired areas. Equipment using radiofrequency allows choosing different levels of depth according to the problem which needs to be treated. This kind of procedure is suitable for superficial line treatment and mild skin laxity and can fulfill your cosmetic goals after 2-8 sessions, once every 2-6 weeks (depending on the type of procedure). It has been reported that these type of procedures usually feels like a warm or hot stone massage.
Ultrasound– heats the skin and its collagen and elastin fibers to 55° or 65°C, targeting the micro-impact points. This procedure is significantly stronger than using radiofrequency, so its results are drastic and last longer, and one session should be enough for getting favorable results.
IPL/RF treatments– combines intense pulsed light (IPL) with radiofrequency for delivering heat to deeper layers and larger areas of the skin to trigger collagen production.
Here is a list of 7 non-surgical skin tightening procedures (all FDA-approved) using either radiofrequency, ultrasound, or IPL/RF:
A) Radiofrequency:
Pelleve
Pelleve is an RF procedure for stimulating collagen production, and it is known for being a simple treatment. No topical anesthesia or any other medicine is required as it is usually not painful, and patients can return to work right after receiving the treatment. Another thing that makes it different from other treatments is that it is ideal for delicate facial areas such as bags and wrinkles of the eye, and aging lipstick lines. It is also useful for treating spider veins.
Thermage
Thermage or ThermaLift is the most popular RF non-surgical skin tightening procedure. Thermage is the device used for this purpose which heats the deep, collagen-rich layers of your skin by radiating radiofrequency waves while the applicator uses a cooling spray on the skin's surface to keep you comfortable during the treatment, so you might only feel a mild warmth on the skin. Thermalift procedure is sometimes called only by the name of its device, Thermage.
Since it is an effective and relatively strong treatment, only one session (which is sometimes followed by an additional session depending on the condition of the area) should be enough to get the desired results.  Depending on your skin, the results last for 1-2 years.
Although it can be used for face and periorbital wrinkles, it delivers better results if applied on large areas such as thighs, abdomen, buttocks, and arms.
Exilis Elite is another technology that delivers results similar to Thermage and also affects cellulite and unwanted fat, so it can be used for face and body sculpting treatment, too. But its results are less lasting than Thermage.
Genius RF MicroNeedling
Genius is a non-invasive and minimally painful treatment that enhances skin texture and firmness. It combines 2 treatments of microneedling and radiofrequency therapy to deliver favorable results. It improves the firmness of the skin and rejuvenates it. Thus, it is also useful for other skin issues besides wrinkles, such as sun damage, large skin pores, age spots, and all sorts of scarring, including acne scarring and stretch marks.
An applicator with ultrafine needles is used to create controlled damage and tiny punctures (3mm) on the skin. Needles also deliver thermal energy through the punctures, deep in the dermis to stimulate elastin and collagen production. The combination of these two treatments creates micro dermal wounds which prompt the body's healing process, and the final result would be favorable lifting and skin tightening. Using topical anesthetic creams before the procedure can minimize any probable discomfort.
Profound Lift
Profound is another treatment that uses deep microneedling with RF to enhance the rejuvenating effect. It delivers controlled energy to the lower layers of skin through the needles, and prevents the energy to reach the upper layers of the epidermis. This single treatment helps with wrinkles, production of new elastin and hyaluronic acid, tissue tightening, and facelifting, decreasing fat, and improving cellulite. It is particularly effective for the wrinkles around the mouth and lower face, treating acne scarring, and reducing the cellulite on the legs, thighs, and buttocks. It gets the energy to fibroblast cells that produce key proteins and some necessary chemicals for tissue regenerating. Local anesthesia is used to reduce discomfort during the procedure.
Venus Freeze
Unlike the name, Venus Freeze works by giving heat to the tissue under your skin's surface and uses a combination of multi-polar radiofrequency and pulsed electromagnetic fields to stimulate collagen and the natural healing response of the body in the treated area. The pulsed magnetic field gives the extra bonus of increased oxygen, nutrients, and blood to the skin. Venus Freeze is also effective for cellulite and stretch mark removal.
Read more: How to get rid of stretch marks?
B) Ultrasound:
Ultherapy
Ultherapy is another non-surgical skin tightening procedure that uses ultrasound for collagen stimulation. Since it works at the deep tissue level, it has a lifting effect along with tightening.
It is mostly used to treat loose skin on the face, neck, and décolletage area and is considered a non-surgical alternative for facelift and neck lift.
The ultrasound waves penetrate the skin's surface and target the structural support layers at a high temperature. This focused energy causes the contraction of the tissue and tightening over time, triggering the natural collagen production of the body. This process and the newly produced collagen help the skin to become firm, smooth and look younger.
C) IPL/RF treatments
VelaShape
This is one of those treatments which is not only for skin tightening but also helps in body contouring and fat reduction. It uses a combination of radiofrequency, infrared light, and vacuum to destroy fat cells and cellulite selectively and contour the body. Radiofrequency can penetrate the skin's deep layers and warms the fat for improving the shape and collagen and elastin contraction. vShape, as a particularly popular procedure among women who have had a baby, is often used on the neck, arms, thighs, abdomen, flank, and arms for regaining a better appearance.
How these treatments work
Elastin and collagen tend to contract under the heat between 42° and 55° Celsius and become firm (higher temperature will burn the tissue). Giving warmth to the skin has short and long-term effects:
The contraction, as a natural result of heating, takes place instantly, and a firmer and tighter look to your skin is absolutely visible after the treatment.
When you apply heat to your skin, it cannot be without consequences. But in this case, these "consequences" are what we want. The body considers the contraction as local stress and triggers a repair process, which as a result, leads to the renewal of all the collagen and elastin of the heated and contracted area. This process takes around a few weeks to 3 months and improves the quality of your skin. The effect of the procedure lasts for about 1-2 years.
Benefits of non-surgical skin tightening treatments
Unlike surgical alternatives, non-surgical skin tightening treatments don't involve an incision, and thus scarring.
There is no downtime, and you can go back to your work and everyday activities right after the procedure.
The healing process is not painful, and you experience only minimal discomfort.
Each session of the procedure doesn't take long. It is usually between 20 minutes to 1 hour, depending on the volume of work and the type of procedure.
Am I a candidate for non-surgical skin tightening procedures?
You may be a candidate if:
You have mild to moderate skin laxity issues on your face, neck, or body (NOT severe sagging skin)
You want to improve your overall skin quality
You want to get rid of your skin laxity caused by a surgical procedure
You want a non-surgical treatment to improve your appearance
What non-surgical skin tightening treatment is right for me?
Generally, if you are looking for treating superficial wrinkles and loose skin, a treatment from category A (radiofrequency) is suitable for you. And if you need something to treat your deeper wrinkles with more lasting results, you should think about Ultherapy. The treatments could be combined to get the best results.
In other words, the treatment should be selected based on your skin, cosmetic goals, and other factors. So, the best thing to do is consult a dermatologist or a plastic surgeon to choose the best non-surgical skin tightening procedure that fits you.
Medical & Cosmetic Treatments