Isfahan, half the world! This is the old epithet of the third most populous city and the second largest city of Iran (in terms of land area). The city received this nickname—'Nesf-e Jahan' in Persian—from its rich cultural and historical heritage which was especially built during the Safavid era. Located 450 kilometers southwest of the capital Tehran, the beautiful city of Isfahan boasts many tourist attractions such as Naqsh-e Jahan Square (Imam Square),  Imam Mosque, Sheikh Lotfollah Mosque, Āli Qapu (palace), Chehel Sotoun (lit. 'forty columns'), Si-o-se Pol (lit. '33 bridges'), Khaju Bridge, Manar Jonban (lit. 'swinging minaret'), Atashgah (fire temple), and Qaisarieh Bazaar as well as many more historical mosques, cathedrals, bridges, bazaars, museums, and edifices which would  take a tourist several days to visit all.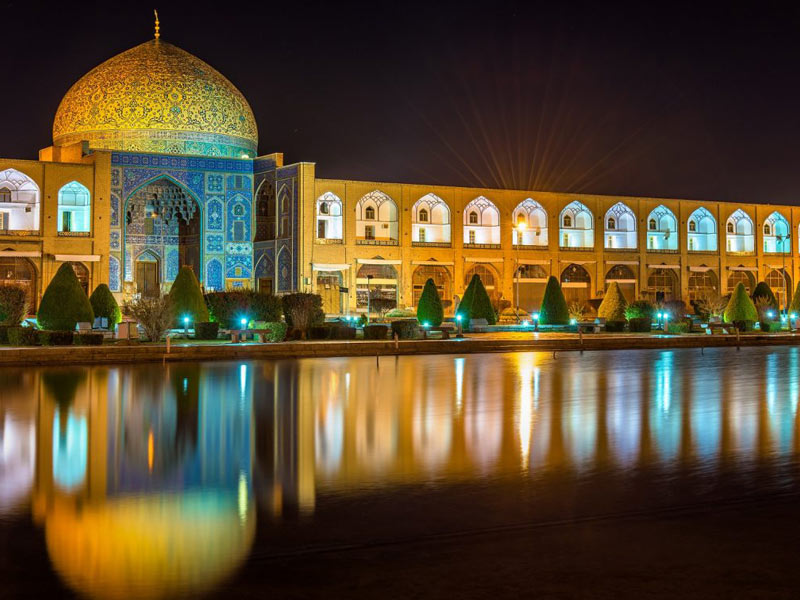 A trip to Isfahan from Tehran is as easy as falling off a log as you can take one of the many daily flights or VIP coaches—if you want to be thriftier during your stay in Iran—or a train. Shahid Beheshti International airport, lying 30 kilometers northeast of downtown Isfahan, offers regular domestic and international flights to and from all major cities in Iran as well as many foreign destinations such as Dubai, Sharjah, Kuwait City, Istanbul, Vienna and Baghdad. Isfahan enjoys mild climate during most of the year with not too cold winters and not too hot summers. In spring, however, the weather becomes the most pleasant.
Isfahan is served by a public transportation system which includes 3 metro lines, 5 BRT lines, a regular bus transport system, and taxi services. Like other major cities in Iran, today Isfahan is also served by online taxis which will stop right next to you within a few minutes after you call one via an app on your phone. Currently, Snapp, Tap30,  Doroshke, Spintaxi, and Ride are the main taxi call applications available in Isfahan.
If you are a risk-averse traveler, you will be happy to hear that Isfahan is one of the safest cities of the country in terms of crime rate—according to the city's police. With two five-star, six four-star and dozens of three-star hotels, Isfahan is prepared for accommodating foreign tourists who are going to enjoy a memorable experience of visiting the many beauties of the diamond in the heart of Iran.