Mashhad was the capital of Iran during the Afsharid dynasty and went through many times of war, fear and terror during its long history. Tous was a city near the present-day Mashhad and was of great religious significance during the Islamic era. Due to this prominent characteristic, it was then when it was chosen to be Imam Reza's Holy Shrine place of establishment.
Despite Mashhad being the home to many historical, cultural and natural sites and attractions, it has always kept its prominence for being the religious hub in Iran. This ongoing significance and the presence of the 8th Shiite Imam's Holy Shrine has kept the city a main religious pilgrimage destination in Iran.
Out of love, respect and obligation we have dedicated an entire article to this city and have made a clear list of what may be essential, beneficial and interesting for you to know about the city of Mashhad.
City of Mashhad
With an area of about 351 km2 Mashhad is Iran's second largest metropolitan city after Tehran in terms of vastness. This city is located in the northeast of the country and is the capital of Razavi Khorasan province.
Regarding its terminology, the name of Mashhad has an Arabic origin and refers to a place of martyrdom. References indicate that this area has been called by this name since around 9th century AD, however it was officially known by its current name, Mashhad, from the 2nd half of the 10th century.
Mashhad Language and Dialect
93% of the city's population speak in Farsi language and in their own special "Mashhadi" accent. Mashhad is pronounced Meshad in local dialect and Mashad by the majority of Iranian people.
Mashhad Population and Neighbourhoods
In fact, Mashhad not only is Iran's second largest city but it also ranks second in terms of population. According to a census done in 2016, this city with a population of exactly 3,001,184 people is the most populous city after Tehran. Beside its permanent population, Mashhad is the host to more than 27 million national and 2 million international pilgrims each year.
Mashhad's 351-km2 area is divided into 13 municipal zones and in this city division various towns, neighbourhoods and villages are included. Quite interestingly the city's formation and expansion began from the neighbouring areas around the Imam Reza Holy Shrine, which explains why the oldest neighbourhoods such as Sanabad and Noqan villages are the oldest areas of the city. As an inevitable result of city expansion and urbanism, these two former villages have been gradually merged together with the city's newer areas and became part of Mashhad's neighbourhoods and streets around the Holy Shrine.
Mashhad Geographical Location, Weather and Climate
Mashhad is expanded over the Kashf-Rud river basin, on the plain of Mashhad and between the two mountains of Hezar-Masjed and Binalud. This locality is an indicative sign of it being a mountainous city with the maximum of 1150-meters and the minimum of 950-meters elevation from sea level.
Accordingly, the city has quite a variable but mild, partially dry and cold climate which is the explanation to the fact that the northeastern city experiences hot summers with cold and humid winters. Not so surprisingly, Mashhad reaches the maximum temperature of about 43 degrees centigrade in the summer and the minimum of minus 23 degrees during the winter. The winds in Mashhad often blow from south east to north west.
Tourism
 Mashhad is notably rich in terms of accommodation as it has a diverse range of hotels, guesthouses and hotel-apartments for every budget and taste. It currently has the largest numbers of various accommodation facilities in Iran, which is why it is considered one of the main tourism hubs in the country.
Mashhad boasts ten 5-star hotels, including Homa-1 and Homa-2 hotels providing Iranian and foreign travellers with a comfortable stay in the city. Also, around fifteen 4-star hotels accommodate national and international travellers. Providing you are more of a laidback and adventurous type of person, camping sites are also available for people who would prefer to put up tents instead of staying in the hotels and guesthouses.
Mashhad's first hotel is the Pars Hotel, built by a famous Russian architect with a Russian architectural style in 1937.
Famous Mashhadi foods that you will find irresistible on your trip to Mashhad are Digcheh, Sholeh Mashhadi, Shishlik Kebab, Koo-Koo Shirin and changali.
Digcheh is a food which contains rice and is cooked similarly to rice pudding.
Sholeh Mashhadi is a type of pottage (Persian: Ash) and its main ingredients are meat, beans and a variety of spices. This food is nutritious enough to be in the main course of a meal.
Shishlik Kebab is one of Mashhad's signature dishes and is made from sheep's sirloin meat, cooked in Mashhadis' special way.
Koo-Koo-Shirin is another famous Mashhadi food made from various ingredients including potatoes, eggs, saffron, barberry, chopped almonds and pistachios. This food can either be served as an appetizer or a dessert. This food can somehow satisfy your sweet tooth as it also contains sugar.
Changali makes for a best dessert or afternoon snack with quite short cooking time. This famous Mashhadi food which is also cooked in the Sistan and Baluchestan province is made from bread crumbs, rock candy syrup and sugar.
Roads, Highways, Inner city and intercity transportation
A total of 359 kilometres of intercity expressways have been constructed in the city of Mashhad. The construction of most of these expressways was started before the revolution, however they have been completed and expanded after the revolution.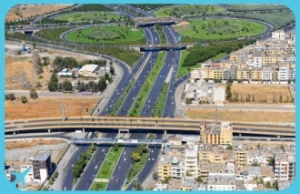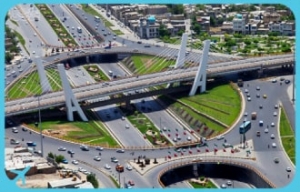 Inner city transportation
Urbanism calls for more traffic and equipping bigger, more modern and civilized cities with various public transportations is considered essential to keep up with the rapid urbanism process. Mashhad has not been an exception as it gives people three different choices of public transportation, train (subway), bus and city taxis.
Subway: Mashhad is Iran's 2nd city after Tehran that has been equipped with inner city subway network which was first founded in 2010. Mashhad currently has two subway lines and the 2nd line was inaugurated in 2016. First line of this subway system stretches from south to north west of the city, carrying passengers from the first to last station in less than 50 minutes and there's an 8-minute time gap between each arriving train. Travelling with these trains requires using electronic "Man (Me) Cards" which are available in every subway station.
Bus:

All areas of the city and its suburbs are covered by Mashhad's Bus network. BRT which stand for Bus Rapid Transit has been added to the network of bus lines in November 2012. As it's quite evident from its name, these buses are intended for travelling distances in shorter amounts of time which is a great option for people who are in a hurry.
Taxis:

Taxi and taxi driving in Mashhad date back to approximately 55 years ago. Until 1997 the matters related to taxis were managed by the private sector and supervised by the police. In 1997 Taxis Management and Supervision Organization started its activity. This organization is obliged to manage, supervise and organize the taxis and their inner city travels.
Subways are usually a better transportation choice as they do not encounter traffic unlike other public and personal transportation, so they are by far less time consuming than the others.
Intercity Transportation
Airport:

Mashhad has one airport which was founded 1951 and handles both domestic and international flights. Mashhad's airport has schedule domestic flights to and from almost all major cities and provincial capitals in Iran, including Tehran, Isfahan, Sari, Zahedan, Shiraz, Kish Island, Tabriz, Birjand, and Ahwaz, as well as international flights to and from a number of foreign countries, including, Iraq, the UAE, Turkey, Lebanon and Afghanistan.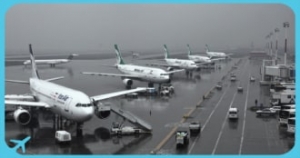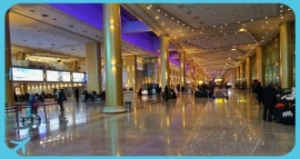 Train:

Khorasan's railway system covers 272 kilometres from Mashhad to Neqab, about 159 kilometres Fariman to Sarakhs, and another 165 kilometres to the border. If you count in industrial and secondary railway lines, it will equal a 1000-kilometre railway. Iran-Turkmenistan railway was launched in 1996 connecting Mashhad, Sarakhs and Tajan via the Silkroad. Similar to inner city subway trains exclusive women-only carriages have been well thought of in these trains. Travelling to cities of Tehran, Isfahan, Shiraz, Qom, Tabriz, Kerman, Kermanshah and Bandar-Abbas has also been made possible via Mashhad's railway system.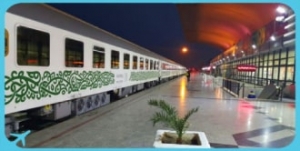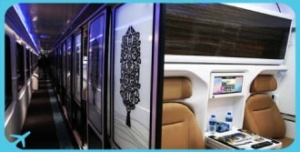 Taxis and Buses: The foundation of Mashhad's temporary inter city taxi and bus terminal was set in 1989, it began providing travellers and tourists with transportation services from 1990. The 45000 m2 area terminal was inaugurated in 2008 and is country's most modern terminal in terms of vastness, design and advanced facilities.
Besides inner city and inter city public transportation facilities, riding a bicycle is not only financially affordable but it's quite beneficial in terms of health and fitness and is definitely an energy booster.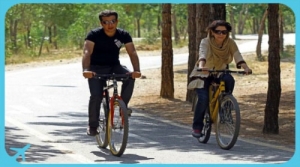 Mashhad Historical Attractions
Although nothing much remains of the ancient cities of Tous and Sanabad, but the good news is that Tous is currently undergoing rebuilding and reconstruction.
Oldest structure and building around the city's area is Bazeh-Hoor fire temple which apparently dates back to the 3rd century AD.
Ferdowsi's Masusoleum is Mashhad's 1st cultural and historical landmark as it's the tomb of one of Persia's famous poets, Hakim Abolqaserm Ferdowsi. This structure has been built, destructed and reconstructed many times throughout history. According to some reports, this tomb was initially a very prudent mausoleum in the midst of a grain field in the ancient city of Tous up until the beginning of 20th century.
Simultaneously with Iran's modern nationalism, they decided to build a mausoleum worthy of this outstanding poet. Current area of this mausoleum is about 8 acres and consists of a vast garden area, a pool and an iconic statue of the poet. Houshang Seyhun the architect of this project, designed this mausoleum based on a previous design by Karim Taherzadeh Behzad.
Nader Shah The Great Tomb is a memorial monument located in Mashhad's Naderi garden-museum complex, built to pay tribute to the late Afsharid king, Nader Shah.
Shah's tomb forms the central part of this complex along with two museum halls, one showcasing weapons from Iran's different historical periods. Second museum is housing weapons and other antiquities from Nader Shah era.
This mausoleum which is the main historical landmark of Mashhad has also been designed by late Houshang Seyhun, a famous Iranian architect.
Some of the other noteworthy historical sites to see in the city are:
Khaje Rabi' Mausoleum
Railway Station
Adobe Dome (Persian: Gonbad-e-Kheshti)
Haruniyeh Dome (Persian: Gonbad-e-Haruniyeh)
Abbas-Qoli khan school
Tous Museum
Hossein-Malek house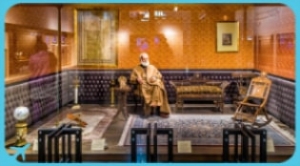 Religious sites in Mashhad
On the day of Imam Reza's birthday, October 29th 2009, Mashhad was officially announced and recognized as a Spiritual and Religious capital of Iran. Imam Reza's Holy Shrine is a host to more than 27 million national and 2 million international pilgrims each year.
Natural Attractions of Mashhad
Mashhad's natural attractions are gathered outside of the city and its suburbs. Some of these countrysides which are in close proximity to the city are:
Shandiz
Torqabeh
Zoshk
Kang village
Naqandar
Vakil-Abad Forest Park
Kouhsangi Park
Qara-Soo waterfall
Ardak dam
Haft-Hoz
Gilas springs
Gorab Springs
Cultural Centres and Attractions
In the 7th annual ISESCO (Islamic Educational and Cultural Organization) meeting, Mashhad was not only elected to bear the capital for 2017, but it was also chosen as an Islamic culture capital.
However cultural activities in Mashhad is not solely based on religion, in fact lots of other cultural activities take place in this big city. They include:
Cinemas, Theatres and Galleries
Culture houses
Libraries
Museums
Entertainment
Besides cinemas, restaurants and cafes there are indeed many shopping centres in Mashhad. In the matter of a few years, the number of these shopping malls have increased quite rapidly. In case Mashhad is one of your destinations on your Iran journey, you will have quite a lot to do regarding shopping.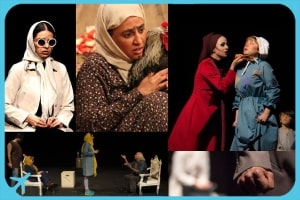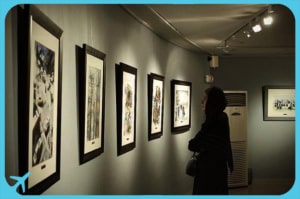 Mashhad's Souvenirs
At the end of every trip we usually look for something to take with us as a souvenir or as a reminder of our memorable trip. Irrespective of it being an edible or something to keep for a lifetime, a memento is your entire journey packed in one or more small pieces.
Mashhad has plenty of options for you, but the most significant and prominent souvenir of the city is its "Saffron", which is called the "Red Gold".
Second most famous souvenir of Mashhad is "Barberry" which is quite an essential ingredient in many Persian cuisines.
Turquoise stone is Mashhad's most popular and valuable gift you can take with you, either as a souvenir or as a precious memento of your trip to Mashhad.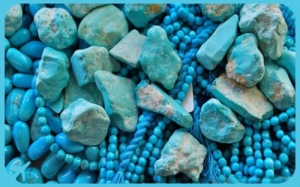 Other Mashhad's souvenirs include:
Dried goods (different nuts)
Prayer beads
Prayer Mat
Perfumes
Sweets and Candies
Masshad Healthcare Centres and Medical Facilities
Mashhad is not only one of the organ transplants and cancer treatment hubs in Iran but it is home to many specialized and modern healthcare centres, hospitals and clinics.
Imam Reza Hospital is Mashhad's first modern hospital which was built by the order of Reza Shah Pahlavi. Upon the opening of Imam Reza Hospital and in its first few years of activity, non-Iranian doctors formed the professional staff of the hospital. These doctors were entrusted to simultaneously train and practice in this hospital.
The initiative to reach a point when Mashhad can be independent regarding healthcare and medical facilities has been fulfilled as it is now accepting many patients from all around Iran and outside of Iran.
Industries
Mashhad is Iran's main leather hub, leather factories such as "Mashhad Leather" are located in this city and their chain stores are all around Iran. Mashhad's other main industries include textile, food, garment, building construction materials, metal, chemical, non metal minerals, agricultural plotting and steel.