AriaMedTour has participated in the International Medical Tourism Exhibition & Conference (IMTEC-2018) of Oman, which was held from 24 to 26 April at Oman Convention & Exhibition Centre in the capital Muscat.
As the biggest tourism company in Iran and also a leading one in the Middle East, AriaMedTour attended the annual event to showcase its services and introduce Iran's medical tourism potentials to the visitors.
More than 100 companies and institutions from a dozen countries took part in the expo, which was organized by Oman's Ministry of Health to bring together active players in the health industry to explore new opportunities and potentials as well as to put on display the latest technologies, services and achievements in this sector.
AriaMedTour's pavilion at the exhibition was visited by foreign ambassadors to Oman as well as officials from Oman's Ministry of Health. They lauded Iran's developments in the health industry and the great potential of this country in medical tourism. Interestingly, many participants and visitors had already heard about AriaMedTour and they were pleased to see the company participating in the event.
On the sidelines of the exhibition, AriaMedTour's CEO and president held meetings with officials of other institutions active in the health and medical tourism sector to exchange views on their countries' potentials in this industry as well as to weigh measures for expansion of cooperation in the near future.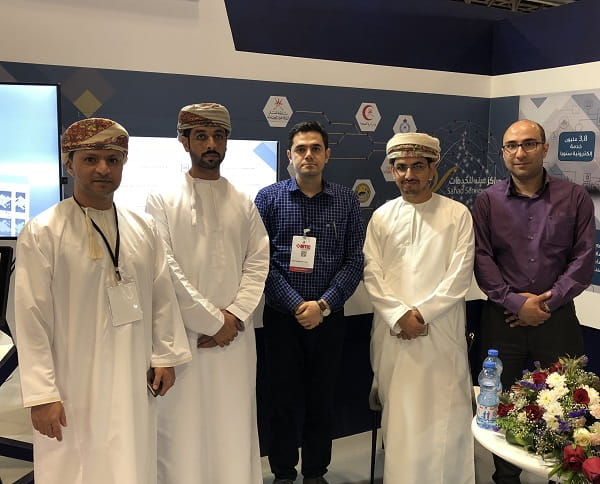 AriaMedTour's officials also met with representatives from Malaysian, Thai, Indian and Omani hospitals to talk about the possibility of cooperation in the medical tourism field. They also paid a visit to Burjeel Hospital in Al Khuwair locality, Muscat. AriaMedTour has plans to open a branch in Oman to secure a foothold in the country's health market and also to use its presence in Oman as a link for attracting medical tourists from other Arab countries to Iran.
Iran is increasingly becoming a popular health tourism destination for Omani people. Given the good political relations between Iran and Oman and the historical and cultural commonalities, the two countries are eager to boost their relations in all spheres. With a population of 5 million, Oman is a short flight away from southern Iranian cities. With direct flight between Muscat and Tehran as well as Muscat and Shiraz, Kish Island and Bandar Abbas in southern Iran, Omani health tourists have easy access to Iranian medical services within a short distance from their homes. Apart from the capital Muscat, other major Omani cities including Seeb, Salalah, Bawshar, Sohar, Suwayq and Ibri are potential targets for exporting Iranian medical and health services.
Read: Omani Patients Who Traveled To Iran For Medical Tourism
Omani tourists also have an eye for Iran because of the country's diverse climate. Given that Oman has a dry and hot climate with hot summers, they are very interested to travel to places with mild and cool climates. Northern Iran, with its splendid climatic conditions and natural attractions as well as cultural beauties, is a favorite destination for Arab tourists in general and Omani tourists in particular. Shiraz, too, is a popular tourist destination for Arab travelers. The city enjoys countless historical attractions and great cultural splendors which cater to the tourism-related needs of foreign visitors.
Shiraz is also a medical hub in Iran. With its highly skilled doctors and reputable hospitals, Shiraz is one of the best destinations for health tourists visiting Iran for all kinds of medical or cosmetic treatments. Shiraz is also among the best cities to receive organ transplant treatments and is considered the capital of liver transplantation in the region.
Medical & Cosmetic Treatments